Make your BTicino MyHome home automation smart with Amazon Alexa
Take control of your BTicino MyHome system with Alexa app
Add Alexa voice control to your BTicino MyHome system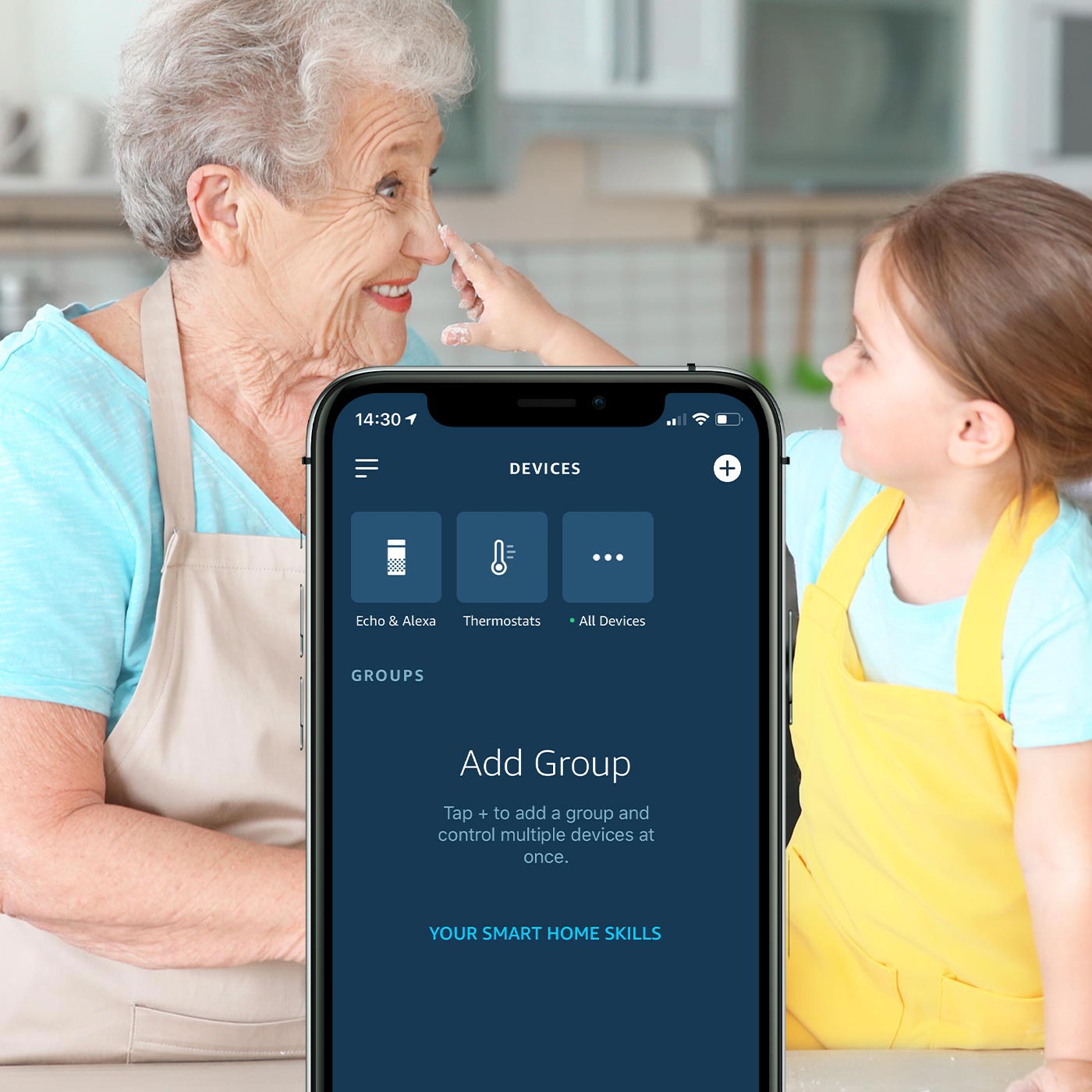 Connect your BTicino MyHome system with Amazon Alexa
Alexa is the Amazon-branded smart platform. It can be used to provide information, play multimedia content and control other devices and services, including smart home services. Amazon Alexa aims to simplify and help users in everyday situations.
Amazon Alexa is compatible with all your MyHome and IoT devices
Your MyHome system in your hands
Upgrade your BTicino MyHome system and give your system a new start.
Now you can manage your home automation with app and voice control. Everything you can control with a voice command remains under your control also via the Amazon Alexa app, which will allow you to manage your MyHome system connected to Alexa also remotely on your smartphone.
"Alexa, it's time to relax!"
Ask Alexa voice control to create a relaxing atmosphere. Soft lighting and a quiet playlist will help you enjoy a quiet moment at the end of the day and go to bed more relaxed.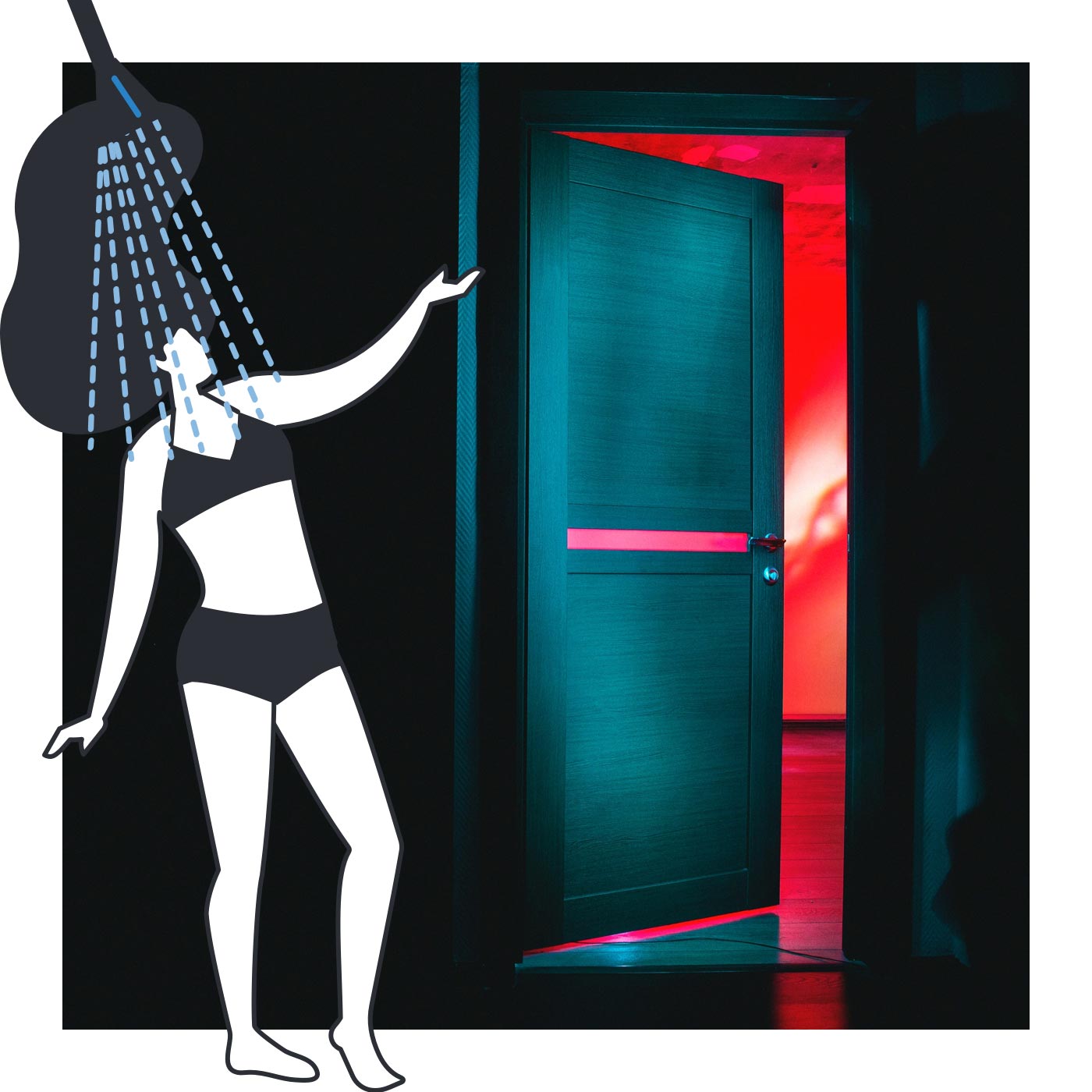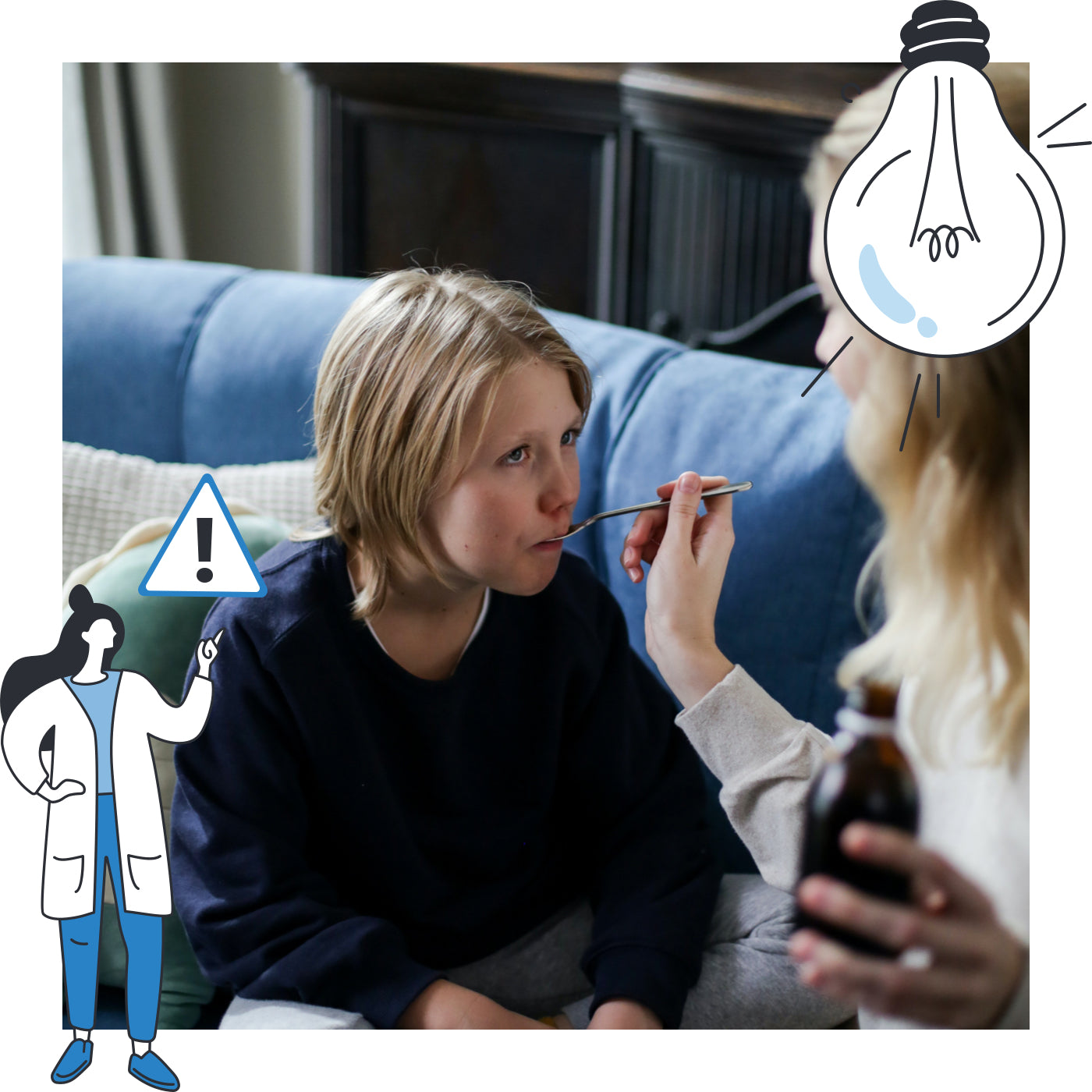 Set up powerful automations
Connect your MyHome system to Amazon Alexa and enjoy the benefits of not having to remember to set reminders. Set up as many automations as you like to make your life easier!
"It's busy!"
You're not sure if the bathroom is busy or not? No worries: you can set colored lights to change color when it's busy. It's time to avoid being ridiculous!
Hey, remember your meds!
If you need a reminder to take your meds, you can set up an automation based on certain days and times, that will activate a voice reminder through Amazon Alexa smart speaker.
Upgrade your system
A new life for your MyHome system
You probably don't even know you have a BTicino MyHome system, but many homes have it. Elevate your BTicino MyHome system and make possible what was not even thinkable!
Add voice control and remote control via the app to your home automation system and have fun creating the most original automations.
An extensive list
Accessories
Among the accessories compatible with Amazon Alexa are two Freedompro products. One of them is the Easykon for MyHome, a BUS device that upgrades your MyHome system and allows you to manage it with Alexa voice control or Amazon Alexa app.
In addition, Easykon for MyHome features a fresh and intuitive panel that will allow you to always have an eye on the interface of your MyHome system. This way, you can easily control your smart home with just a few touches on your screen!
Here is the list of MyHome accessories that you can manage and control with Amazon Alexa via Easykon:
- Thermostat
- Window covering
- Door
- Garage door
- Lock
- Scene
Want to know more?
More technical stuff
Make your MyHome system really smart even without programming knowledge. Take advantage of the situation by installing Easykon for MyHome thanks to its automatic configuration and control your smart home with the app and your voice!
Your MyHome system is not as smart as you thought when you installed it? Want to add the real twist to your MyHome system? Here's the solution to get an amazing system into your hands, make it Easy(kon)!
THIS IS OUR SOLUTION FOR CONNECTING MYHOME WITH AMAZON ALEXA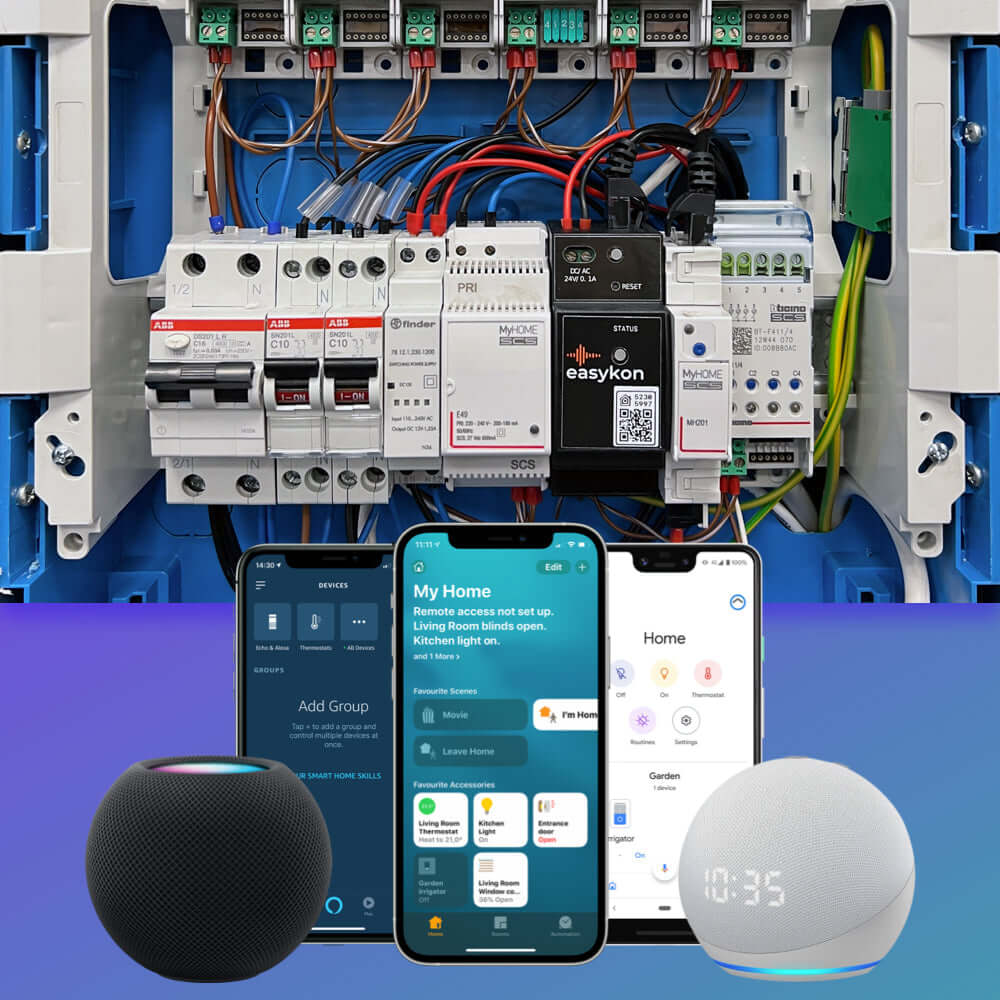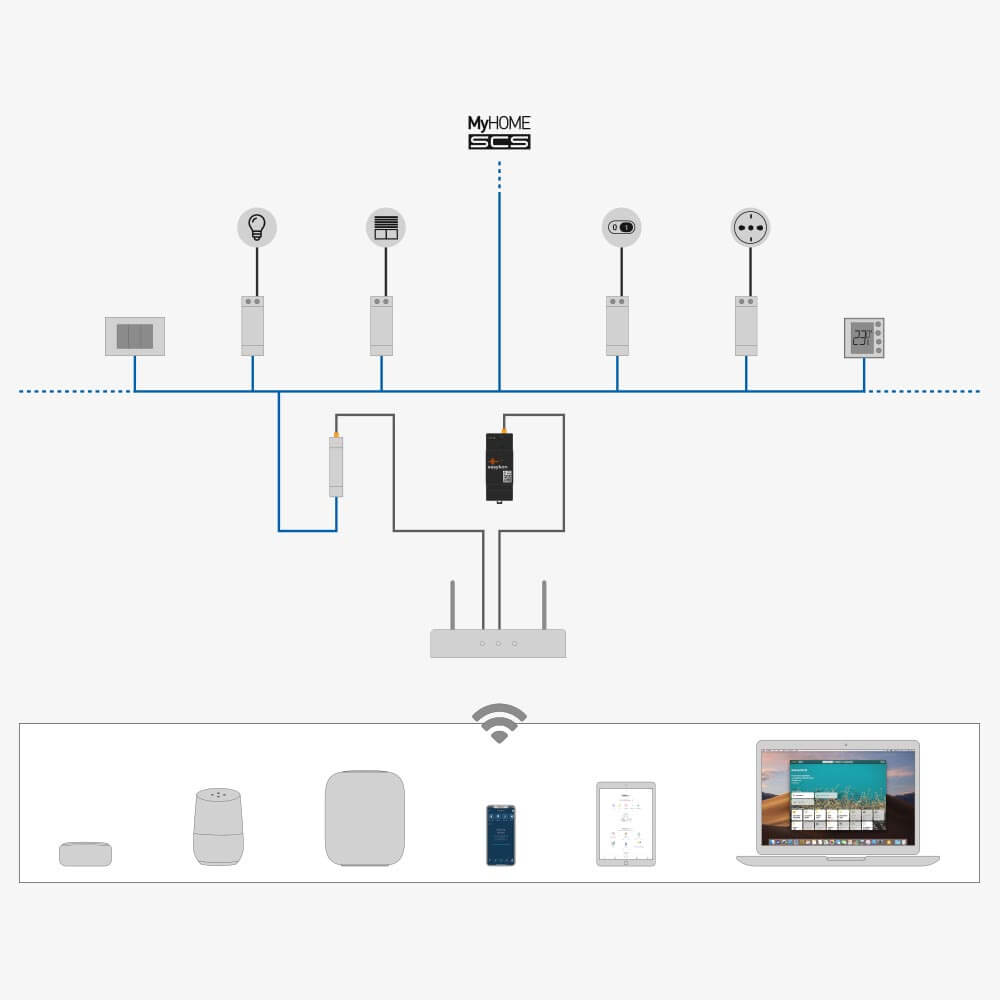 BTicino MyHome SCS BUS 2-DIN rail module, Ethernet connected bridge to smart control MyHome SCS home automation system
Easykon for MyHome is a professional smart bridge with RJ45 Ethernet connection to control SCS BUS home automation. 2-DIN rail bridge module that makes MyHome home automation system smart with remote control, voice commands, and automations. Advanced professional quality and fully compatible with all smart platforms.
⚠ Power supply is not included. The bridge requires a gateway, click here to find out the list of compatible ones.
Of course you can! Combine the Freedompro service with your profile on the Amazon Alexa app and you only need an internet connection to control your MyHome system remotely!
With Amazon Alexa you can control several devices in your MyHome system.
Through Text-To-Speech notifications, Amazon Alexa reminds you when your Amazon orders are scheduled to be delivered.