Make your BTicino MyHome home automation smart with IFTTT
Create powerful BTicino MyHome automations with IFTTT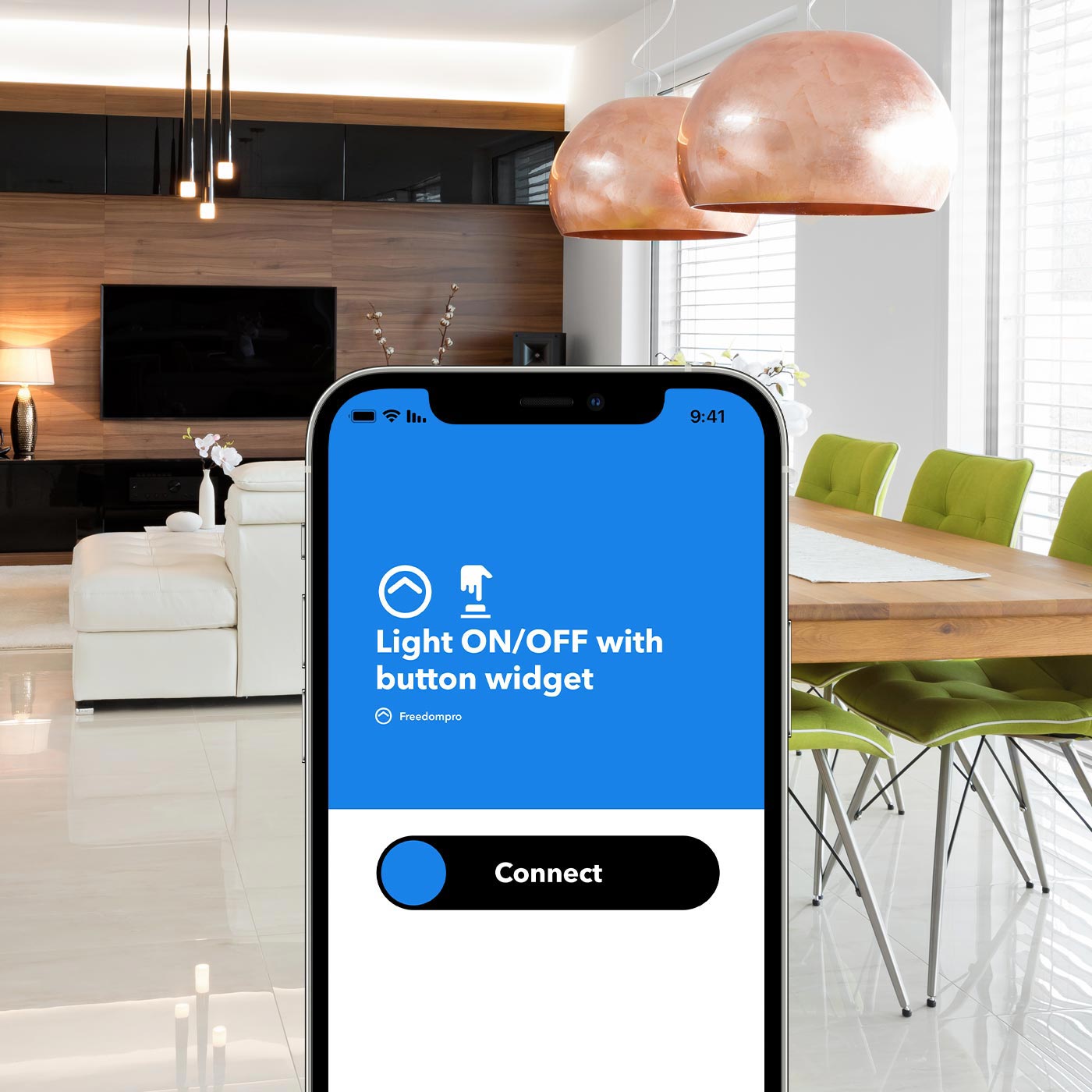 Connect your BTicino MyHome system with IFTTT
By connecting the BTicino MyHome system with IFTTT you can make your home automation smarter creating powerful and interesting automations. Connect and use the accessories of your MyHome system with IFTTT to automate your home. For example, you can receive notifications or calls when a sensor is triggered; or you can control lights and shutters by weather.
Manage your applets with IFTTT
Control your MyHome system with IFTTT
The IFTTT technology, which stands for 'If This Then That', allows you to create various applets that enable you to automate your daily actions. In a very quick and intuitive way you can choose both triggers and actions, i.e. what triggers the automation and what action is triggered.
You can interact with IFTTT either through the application or from your browser using the simple and intuitive graphical interface. IFTTT not only allows you to use the predefined applets available on the platform, but also lets you create some on your own.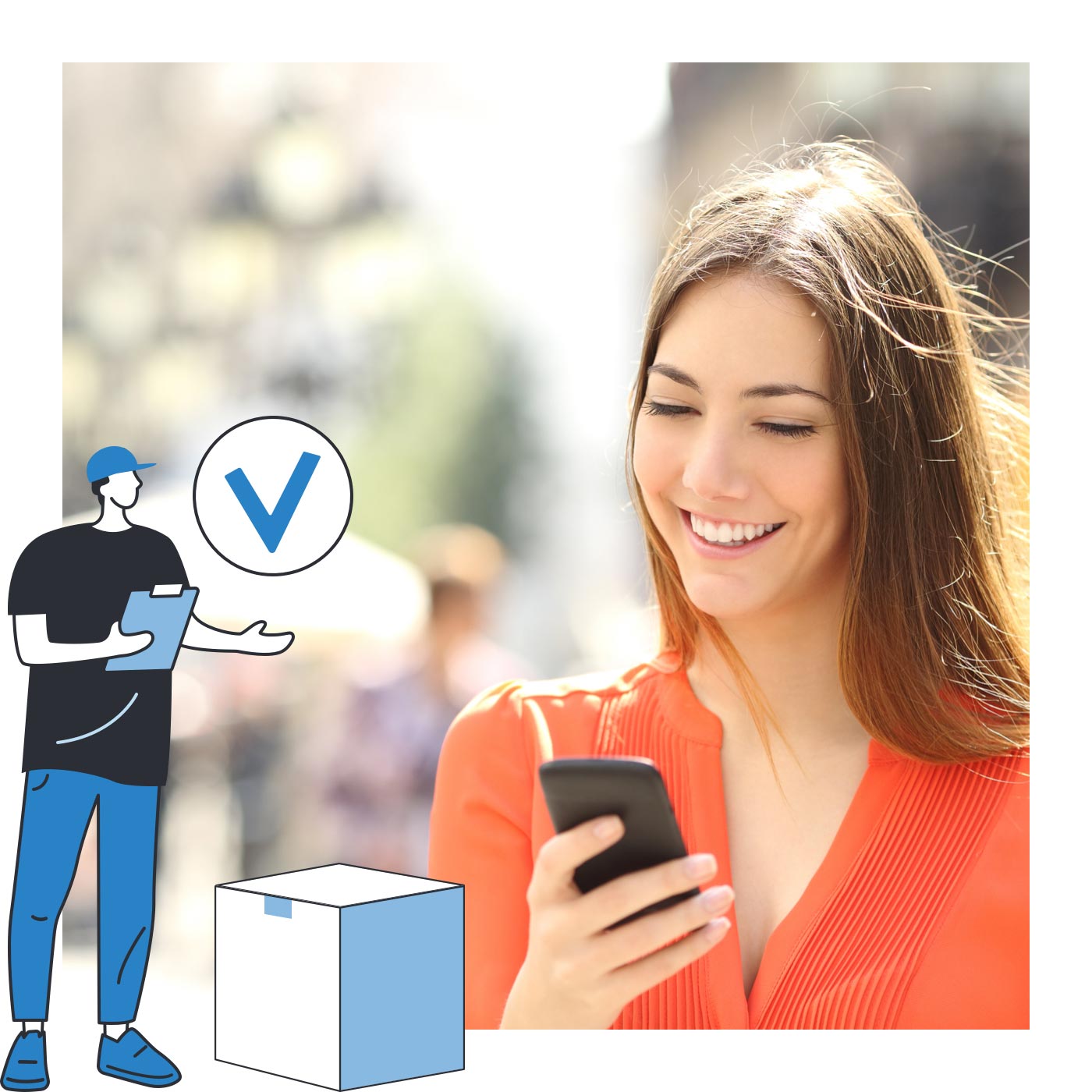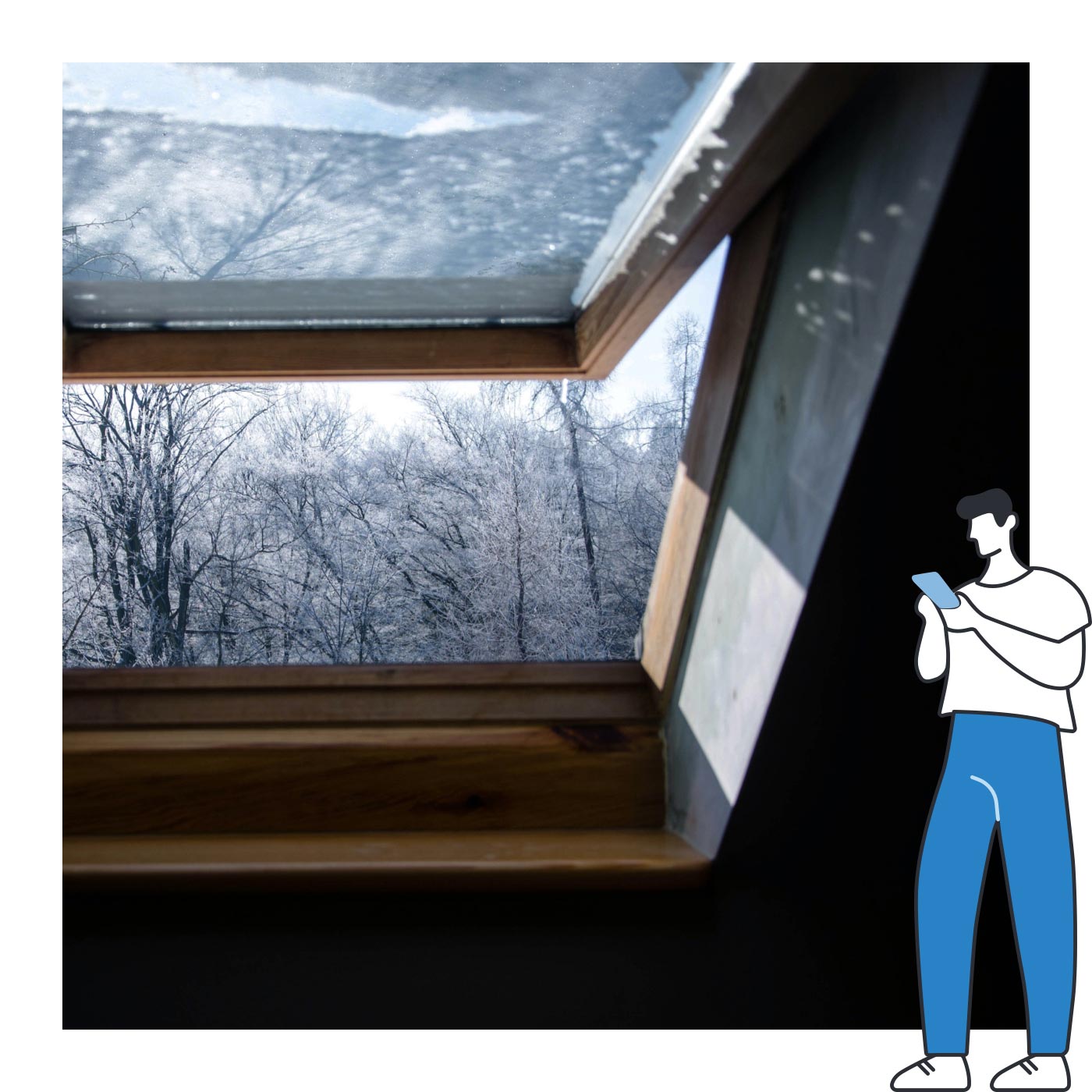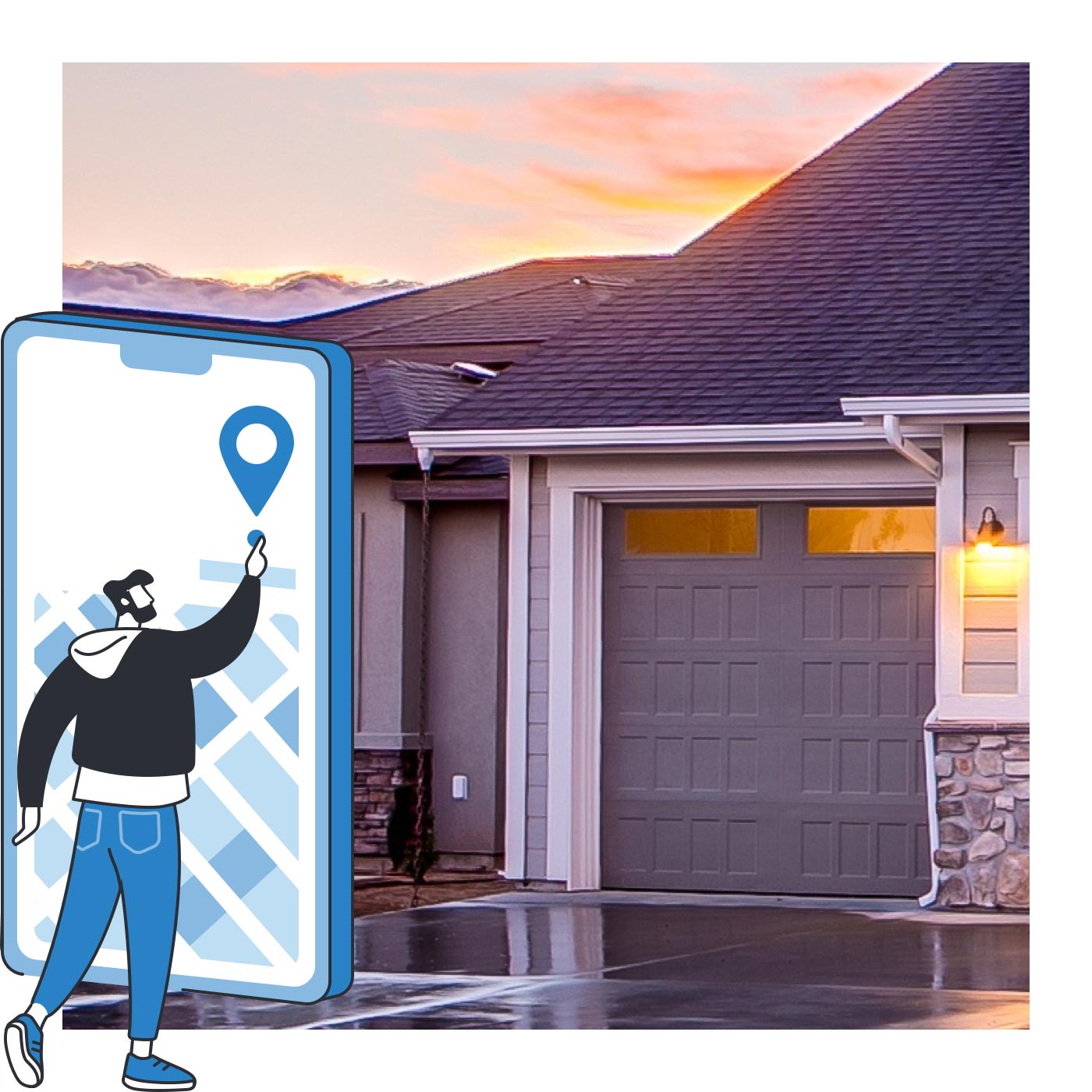 Create customized applets for every occasion
First define the trigger (this), i.e. the service or event that will trigger the automation. Then define the action that will occur (that), i.e. the service you need.
"You left the window open"
Set a trigger so that when the window sensor is open for 5 minutes, you receive a notification on your mobile phone to remind you to close it.
"I am home"
You can set up an automation so that when your position is detected within a range of kilometers, IFTTT opens your garage door.
A complete list
Accessories
Completely change your approach to the smart home by using the Freedompro hub on IFTTT. Freedompro has launched a family of products that are fully compatible with it. These include the Easykon for MyHome, a BUS device that can give your old MyHome system a new life. 
In addition, Easykon for MyHome provides you a dynamic and intuitive panel that allows you to always have the interface of your BTicino MyHome system under control. Now you can easily control your new and advanced home automation with just a few touches on your screen!
Here is the list of triggers you can set with IFTTT:
- Fan
- Smoke sensor
- Contact sensor
- Occupancy sensor
- CO2 sensor
- Leak sensor
Below is the list of actions that will occur when the trigger is activated
- Open or close the garage door
- Activate a scene
- Turn on or off an outlet
- Open or close a door
- Open or close a window covering
- Change state of a lock
- Manage the thermostat temperature
- Open or close a gate
- Turn on or off the fan and control its rotation speed
- Turn on or off a switch
- Turn on or off a lightbulb and set its brightness, saturation and color
- Open or close a window
Want to know more?
More technical details
With Easykon for MyHome, you can make your BTicino MyHome system really smart even without programming knowledge. Take advantage of its automatic configuration and install Easykon for MyHome in just a few moments to turn your outdated BTicino MyHome system around and control it from your screen!
You didn't even know you had a BTicino MyHome system and now that you do you're convinced it's too old? Add the real twist to your MyHome system. Freedompro gives you the best solution to give a new life to your BTicino MyHome system, make it Easy(kon)!
This is our solution for connecting MyHome with IFTTT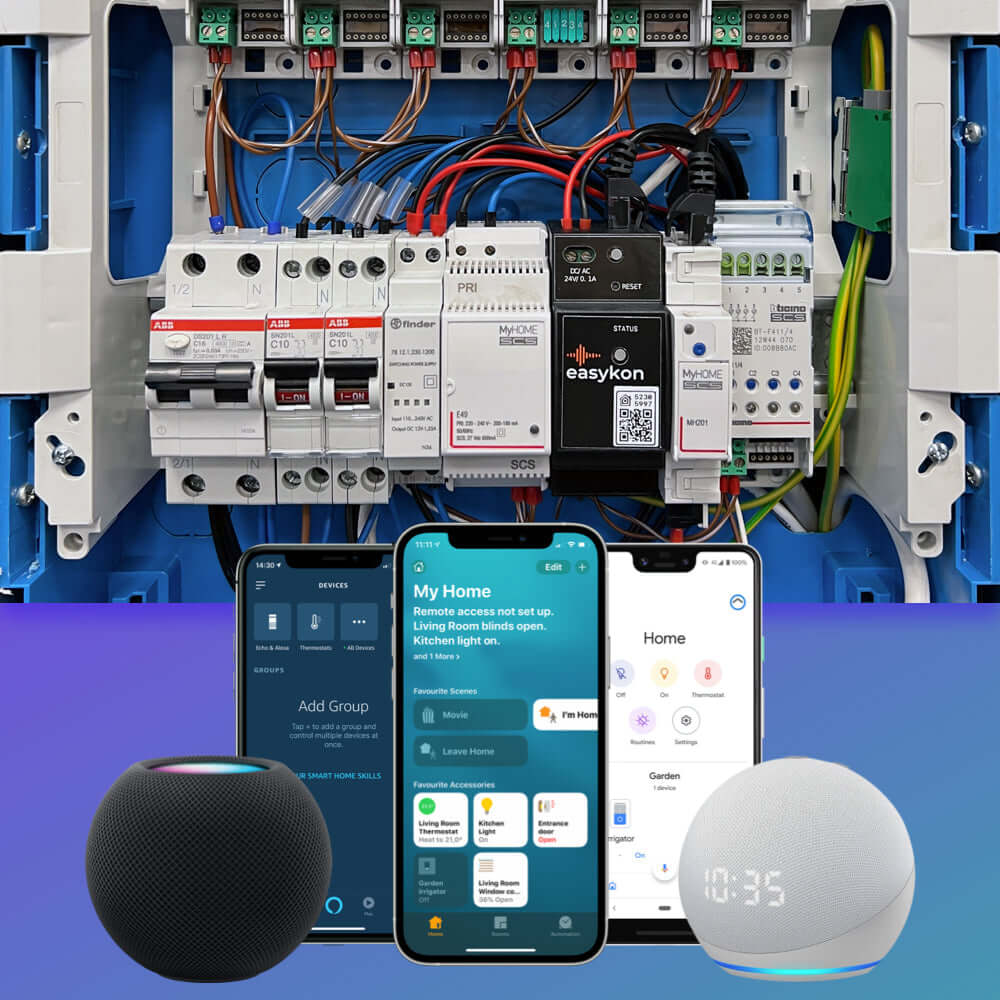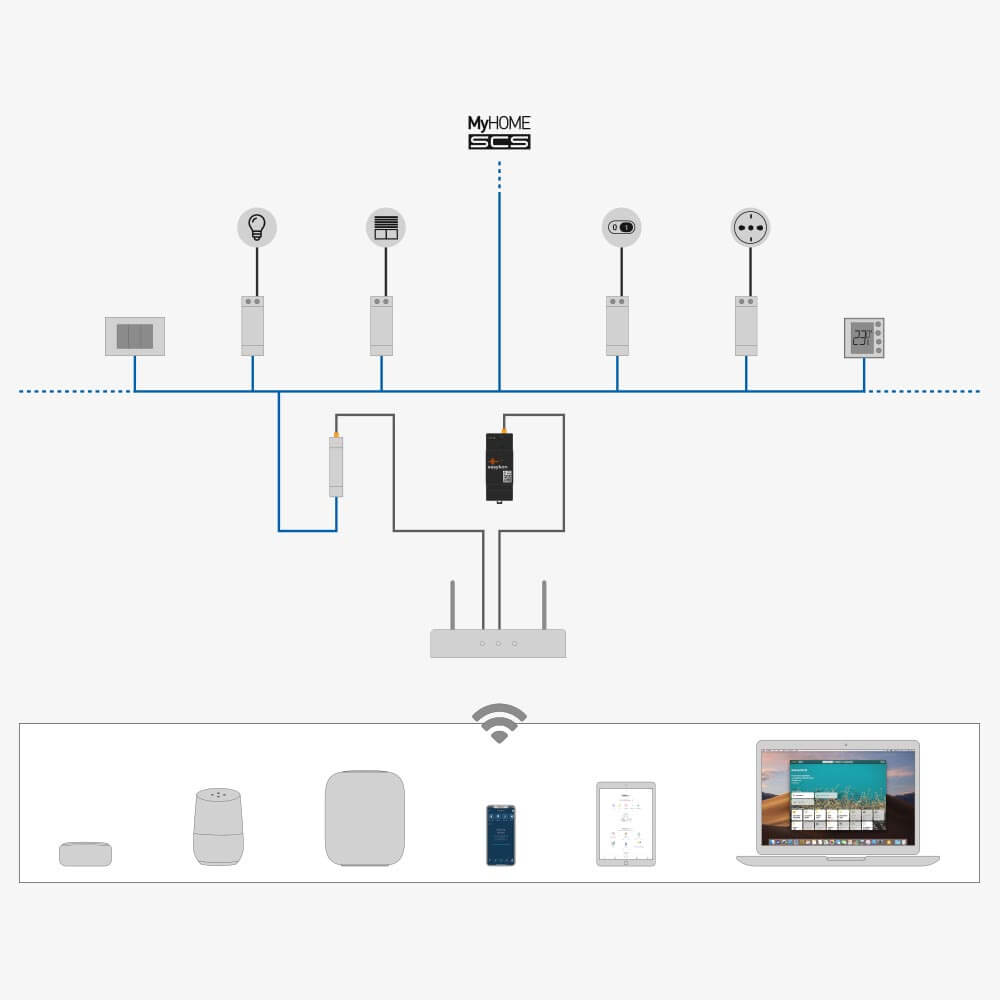 BTicino MyHome SCS BUS 2-DIN rail module, Ethernet connected bridge to smart control MyHome SCS home automation system
Easykon for MyHome is a professional smart bridge with RJ45 Ethernet connection to control SCS BUS home automation. 2-DIN rail bridge module that makes MyHome home automation system smart with remote control, voice commands, and automations. Advanced professional quality and fully compatible with all smart platforms.
⚠ Power supply is not included. The bridge requires a gateway, click here to find out the list of compatible ones.
You can enjoy a very wide list of triggers and actions.
With the free version of IFTTT you can use all the existing Applets and create up to 5 customized Applets. To increase the number of customized applets you will need to upgrade to the premium version: IFTTT Pro.
IFTTT is a platform that integrates a lot of services and companies. Among them is Freedompro!