Make your KNX home automation smart with Apple HomeKit
Take control of your KNX system with the Apple Home app
Add Siri voice control to your KNX home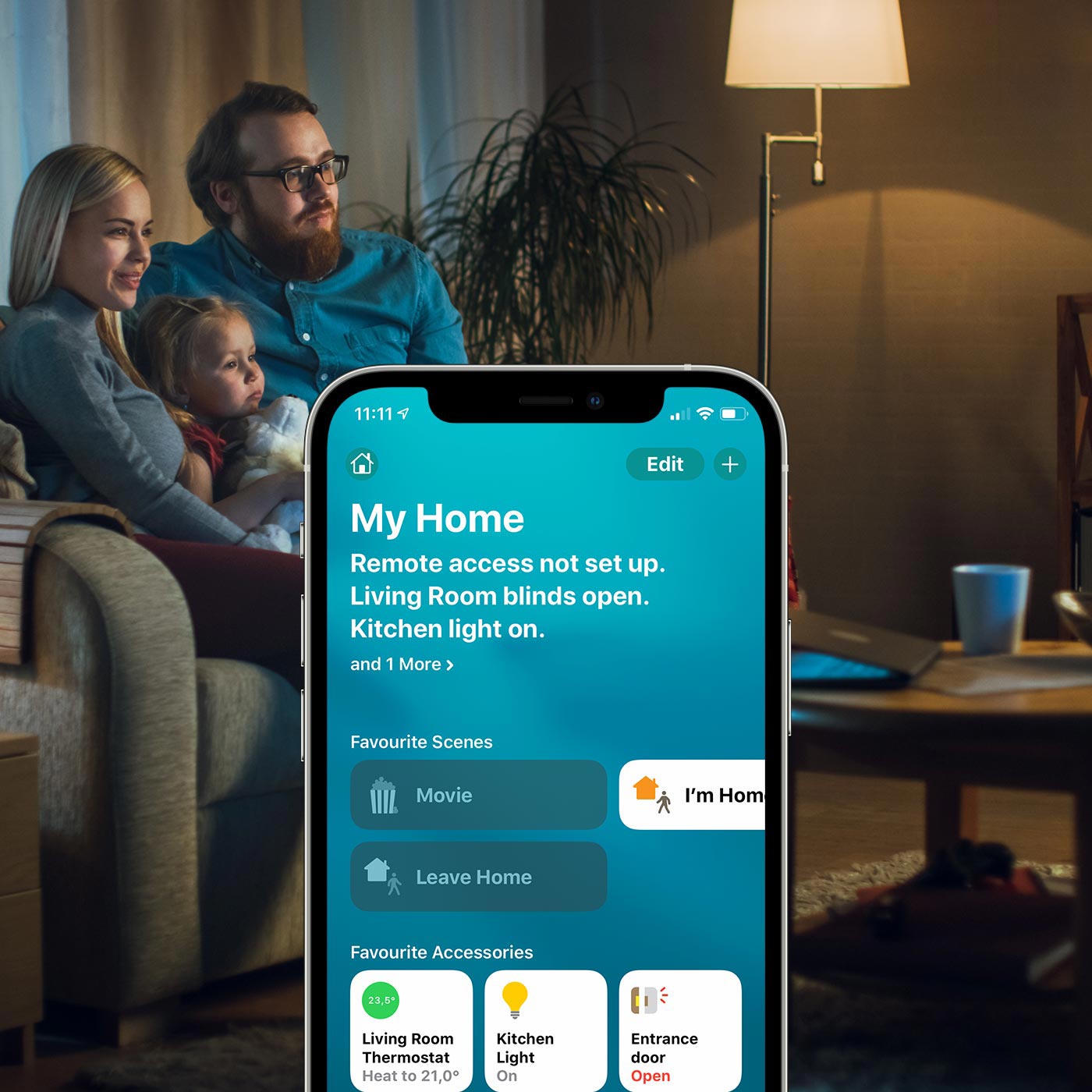 Connect your KNX system with Apple HomeKit
The Apple HomeKit protocol is the beating heart of Apple-branded home automation and allows dialogue between smart objects and iOS (iPhone and iPad), MacOS (Mac computers) and TvOS (Apple TV) based devices. Connect your KNX plant to Apple Homekit in just a few steps and take control of your system using the 'Home' app on your Apple device or voice control with Siri.
Apple Homekit supports all your KNX and IoT devices
Your KNX system in a few tap
Is your KNX system not as smart as you thought it was when you installed it? Do you want to add the real turning point to your KNX system?
Take advantage of the newest features of Apple HomeKit and the Home app to control your house remotely.
Connect your KNX system with Apple HomeKit to have your smart home at your fingertips.
Control all the features of your KNX system using the dynamic interface of the Home app. Switch on the garden lights, raise and lower the shutters, or even open the front door without necessarily answering the buzzer!
The future of your smart home is now, connect your KNX system to the Apple HomeKit.
Get the final piece of an extraordinary system in your hands, make it Easy(kon)!
"Hey Siri, goodnight"
Manage your KNX home automation system with voice control just talking to Siri.
For example, through the use of a modern and super-intuitive graphical user interface, you can set up a "Goodnight" scenario that closes the shutters immediately when you say "Hey Siri, goodnight"!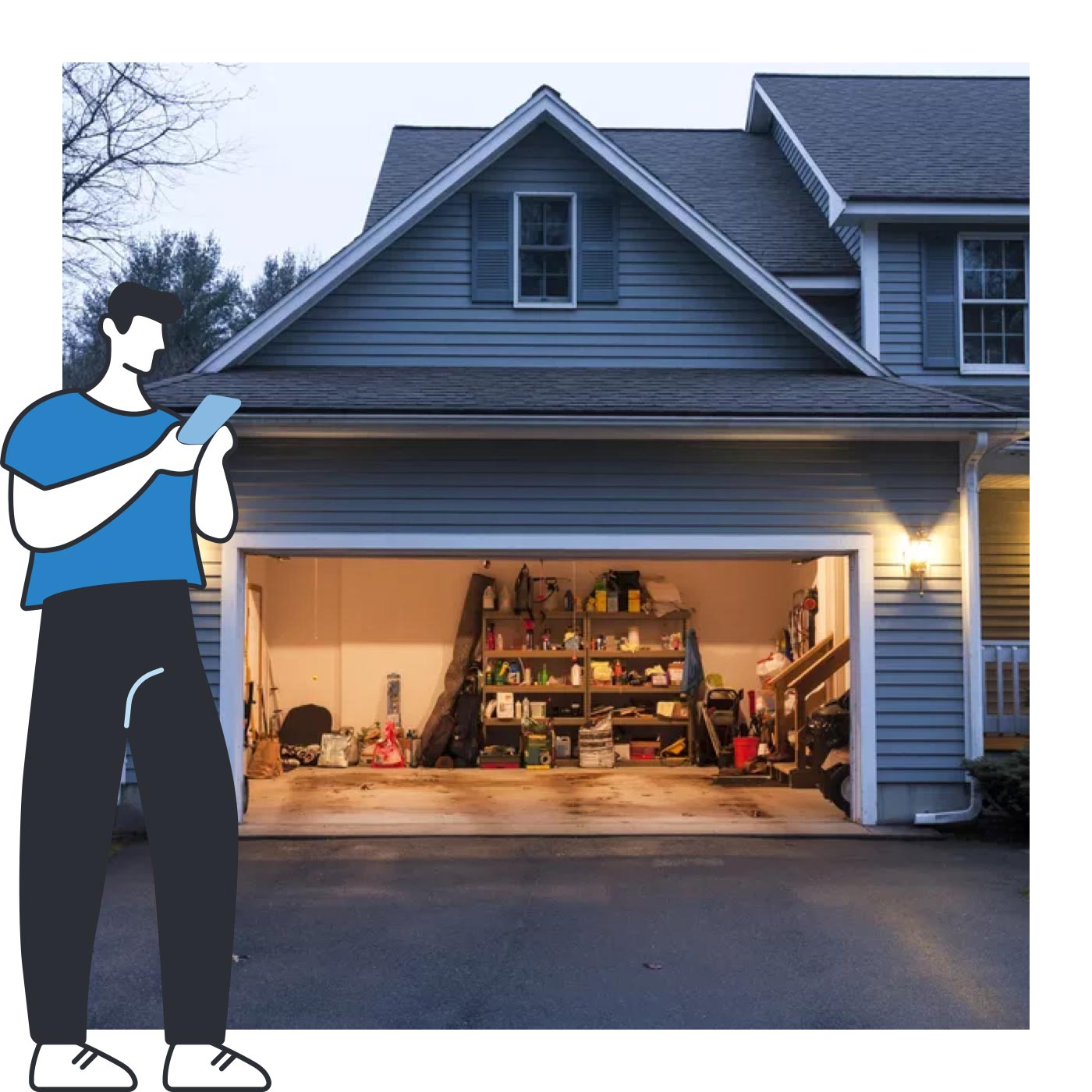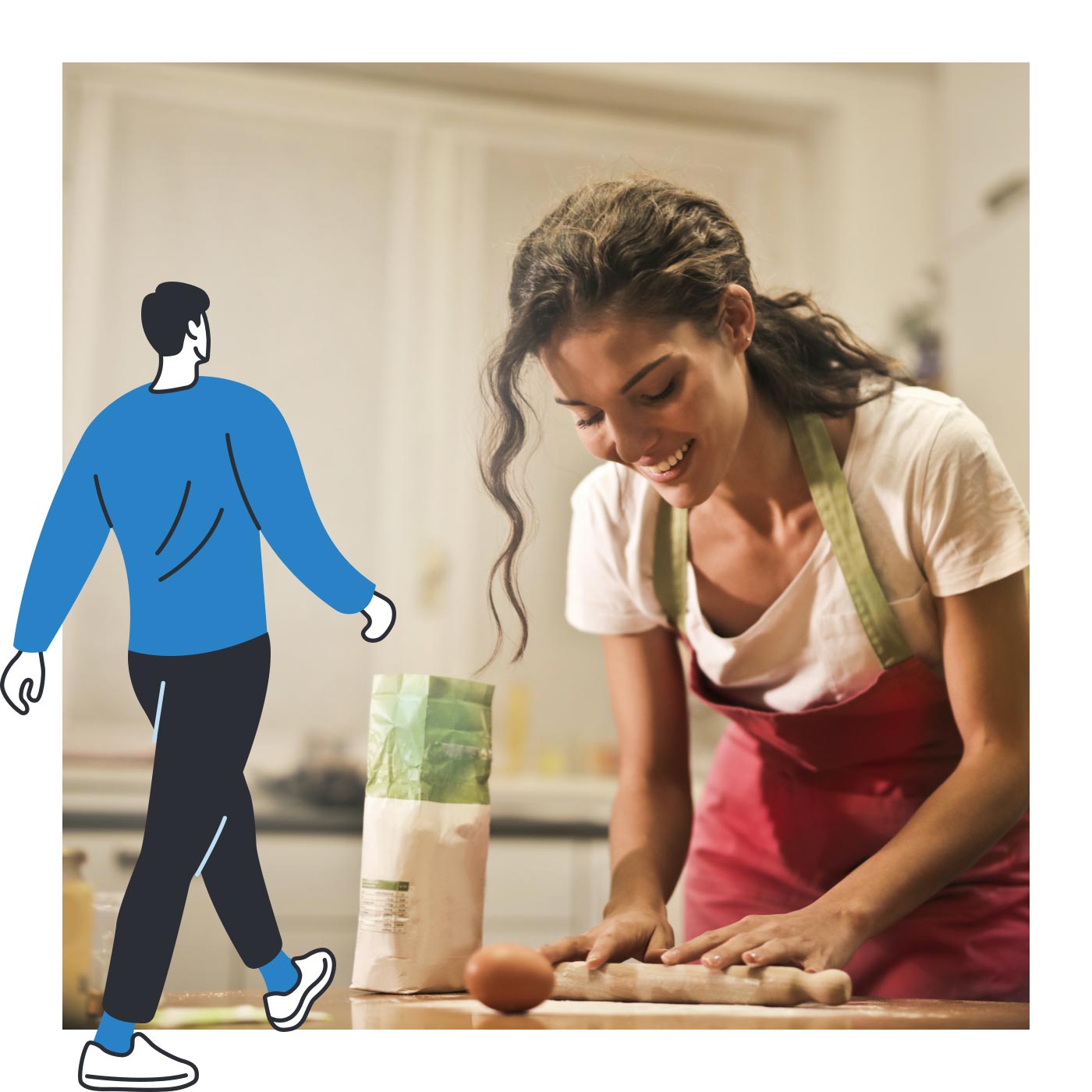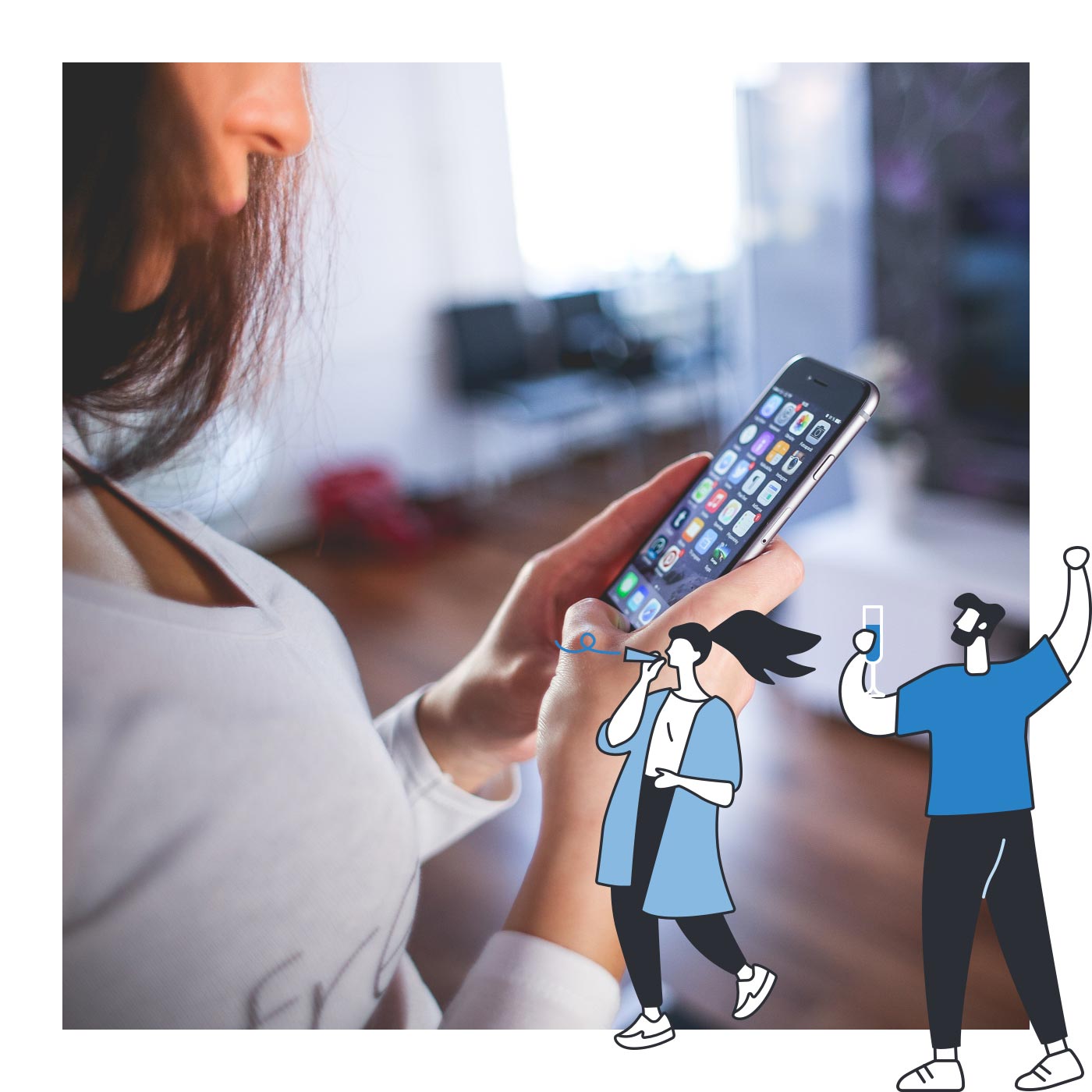 Forget about pressing buttons
Think about how many times you've had the feeling that you didn't close the garage door properly. By easily setting up an automation on the app, your garage door becomes smart and will close itself when the location on your smartphone detects you within 300 meters of your house!
"Hey Siri, Roger is coming"
Have you been wasting time preparing dinner and didn't realize that your guest is going to ring the doorbell at any moment?
Don't worry!
Ask Siri to set up a specially prepared scenario to welcome your guests. Adjust the lights, play some background music and enjoy the evening!
Customize it with Siri Shortcut
Thanks to the Shortcut app, you can set up various automations with the NFC tag.
Depending on who scans the NFC tag with their smartphone, the set scenario is automatically started!
Give free rein to your imagination and create as many automations as you like to make your everyday life more fun and entertain your guests.
We know what you're thinking
Is it safe?
Of course it is! Apple is very confident in its security programme. All Apple HomeKit-compatible accessories are screened and rigorously tested before being released to the market.
A very wide list
Accessories
The list of all accessories which work with Apple HomeKit is wide and constantly updated. Among them, in the bridge section on Apple's website, there are two Freedompro products that have obtained Apple certification. One of these is the Easykon for KNX.
Easykon for KNX is a device for BUS that evolves your KNX system and allows you to manage it via the Apple HomeKit app or the Siri voice assistant.
Here's the list of KNX accessories you can manage and control with Apple HomeKit via Easykon:
- Light
- Thermostat
- Outlet
- Window covering
- Switch
- Fan
- Smoke sensor
- Contact sensor
- Occupancy sensor
- Light sensor
- CO2 sensor
- Humidity sensor
- Temperature sensor
- Leak sensor
- Motion sensor

And there's more! You can also manage and control several Apple HomeKit compatible IoT devices, combining them with your KNX system, to let you be in full control of your home:
- Air Conditioners
- Air Purifiers
- Cameras
- Doorbells
- Faucets
- Garage Doors
- Locks
- Routers
- Security
- Speakers

- TVs
- Sprinklers
- Receivers
Want to know more?
More technical stuff
Make your KNX system really smart even without ETS programming knowledge. Take advantage of the situation by installing Easykon for KNX thanks to its automatic configuration and control your smart home.
Thanks to its simple 3-step installation process, activating and controlling your KNX system will be quick and easy. When "pairing" choose Apple HomeKit and start enjoying the smartest smart platform ever!
This is our solution to connect KNX with Apple HomeKit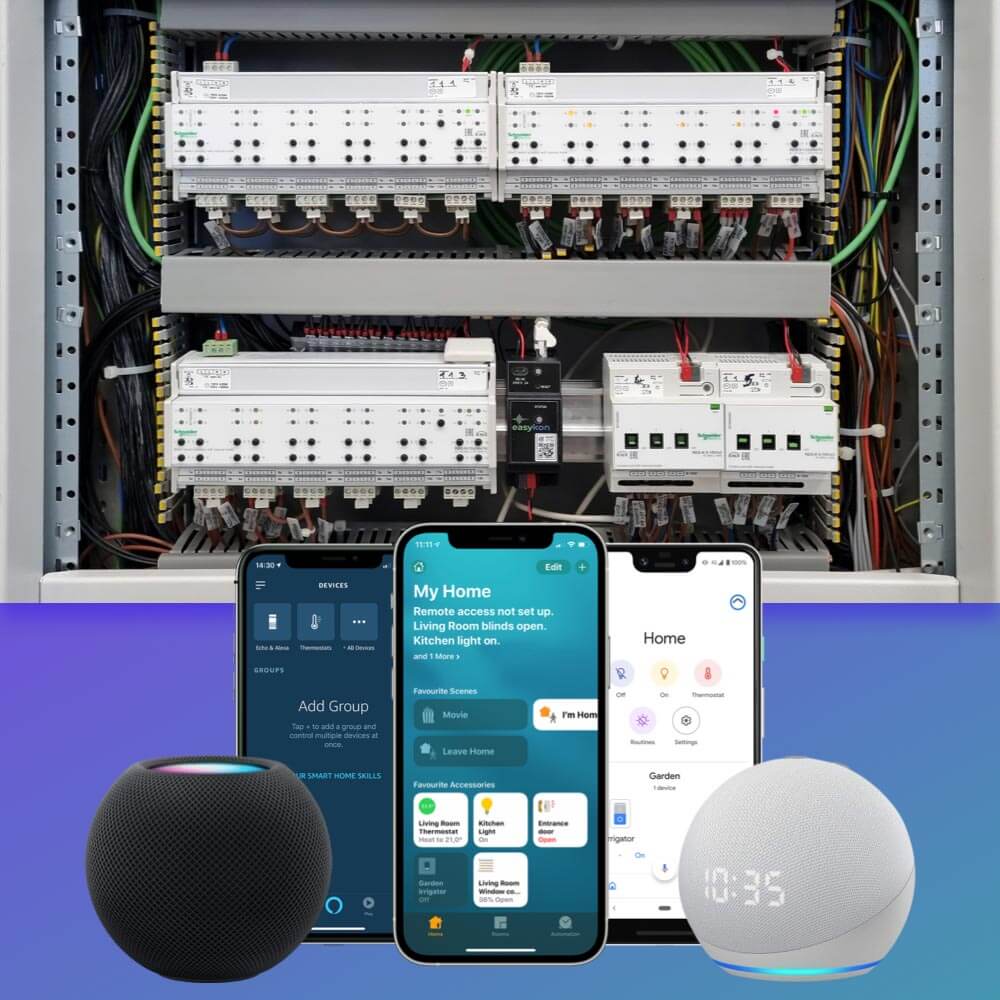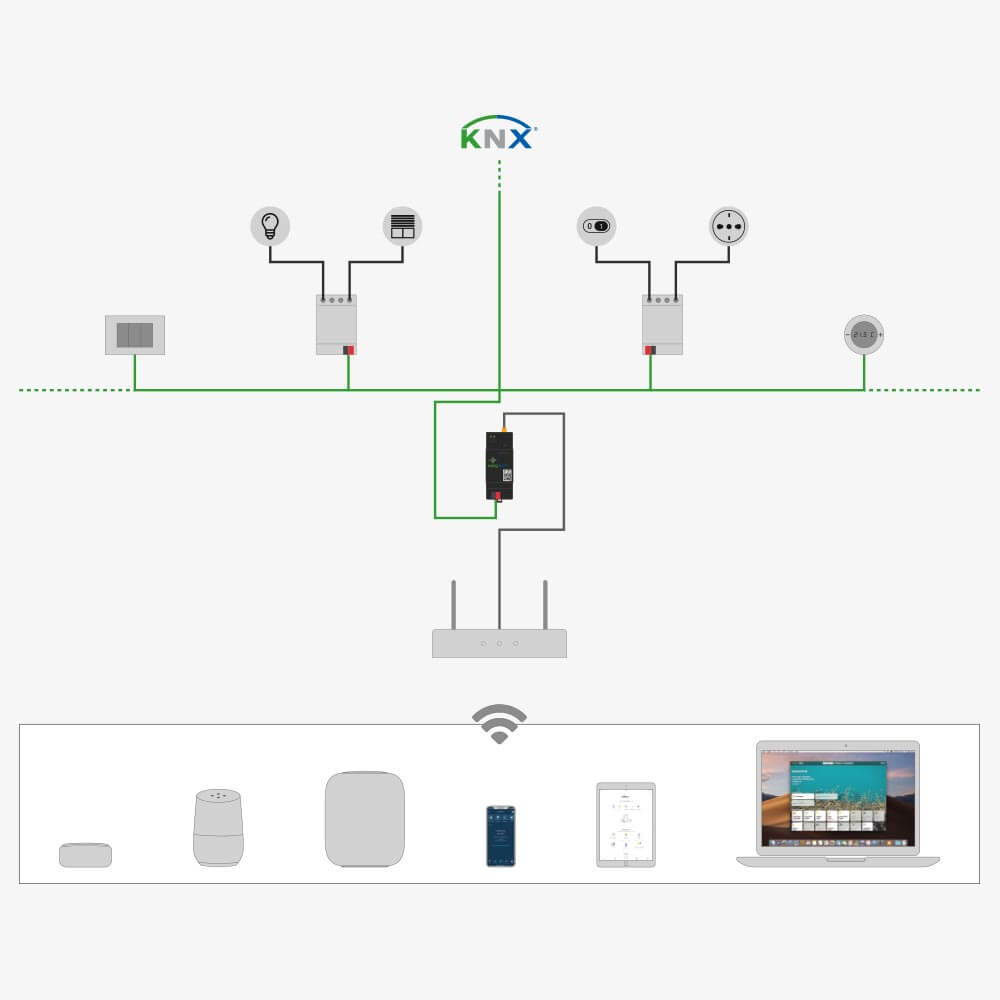 KNX BUS 2-DIN rail module, Ethernet connected bridge to smart control KNX home automation system
Easykon for KNX is a professional smart bridge with RJ45 Ethernet connection to control KNX BUS home automation. 2-DIN rail bridge module that makes KNX home automation system smart with remote control, voice commands, and automations. Advanced professional quality and fully compatible with all smart platforms.
⚠ Power supply is not included.
Of course you can! Just leave your AppleTV, iPad or Homepod at home as a domestic hub, and Apple HomeKit will work even if you're away. So you can control your KNX system remotely!
With Apple you can control several devices in your KNX system.
Apple Homekit allows you to connect up to 149 accessories