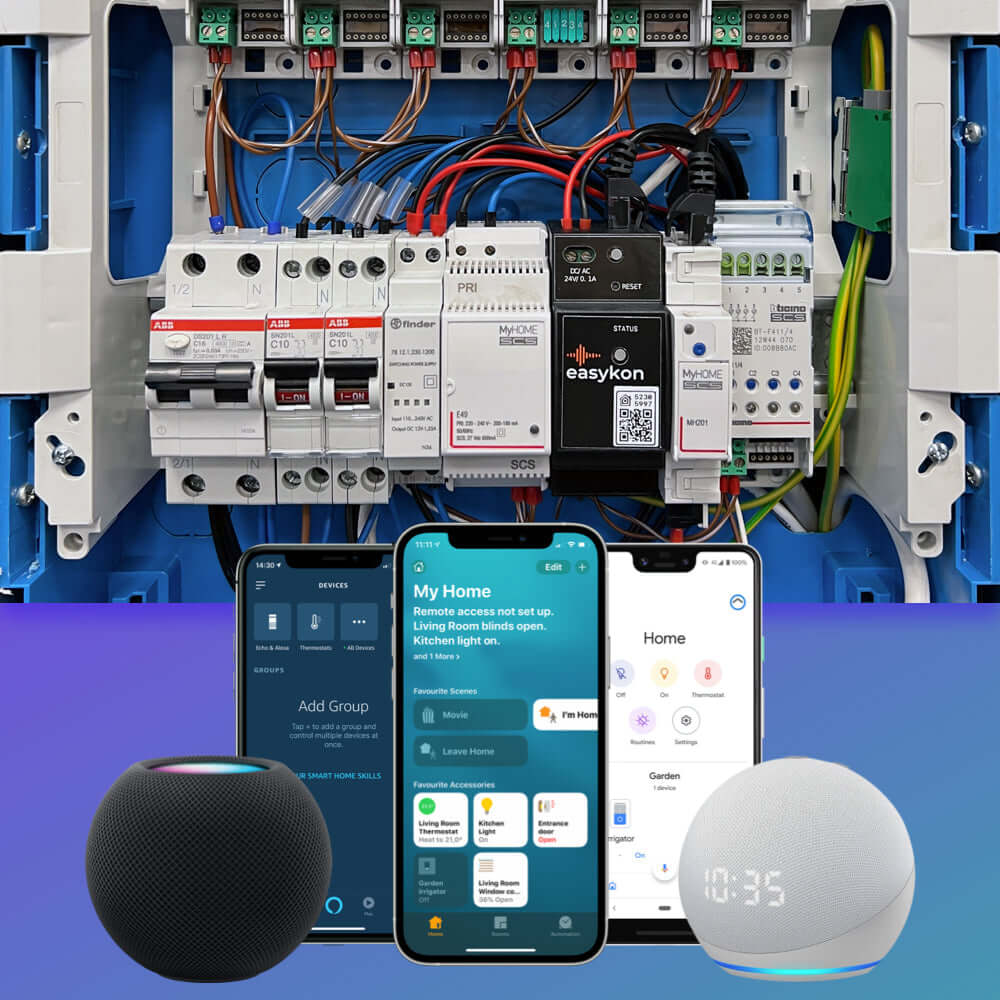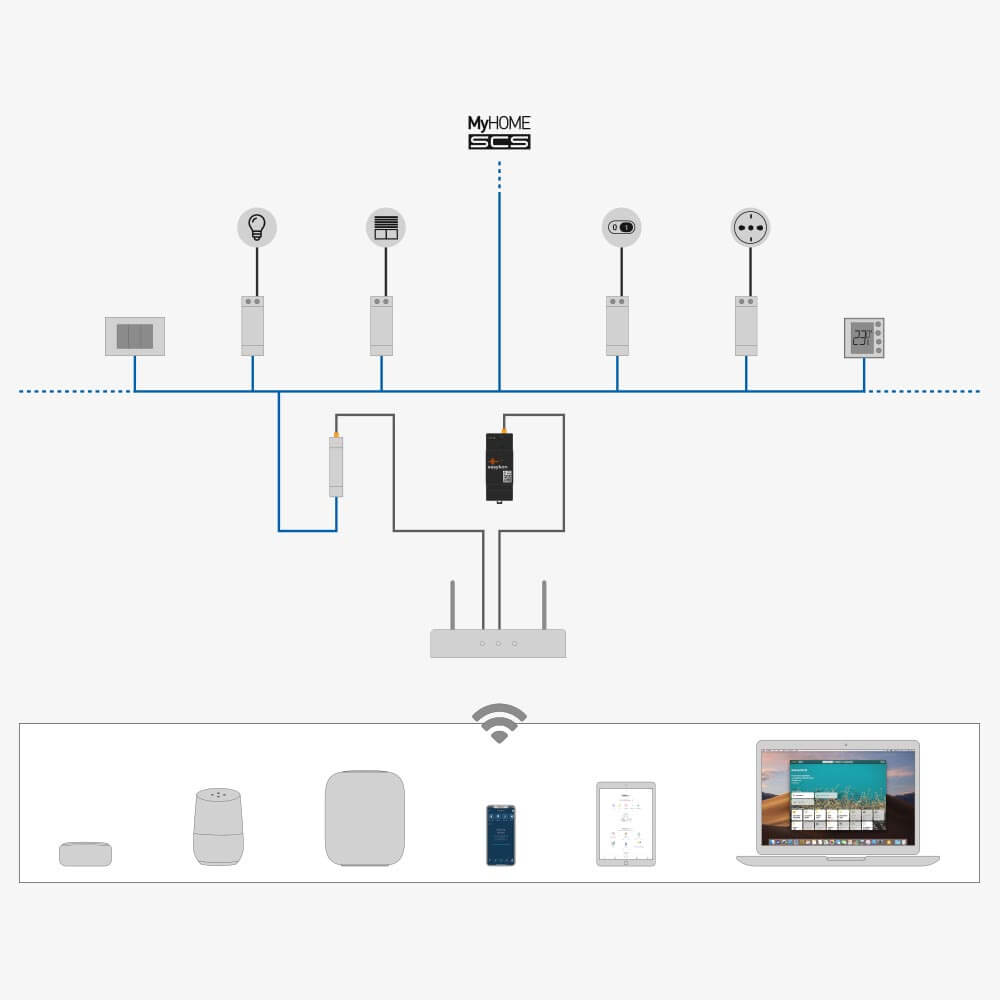 Easykon for MyHome
BTicino MyHome SCS BUS 2-DIN rail module, Ethernet connected bridge to smart control MyHome SCS home automation system
Easykon for MyHome is a professional smart bridge with RJ45 Ethernet connection to control SCS BUS home automation. 2-DIN rail bridge module that makes MyHome home automation system smart with remote control, voice commands, and automations. Advanced professional quality and fully compatible with all smart platforms.
⚠ Power supply is not included. The bridge requires a gateway, click here to find out the list of compatible ones.
Easykon for MyHome in action
Watch how Easykon can upgrade a BTicino MyHome system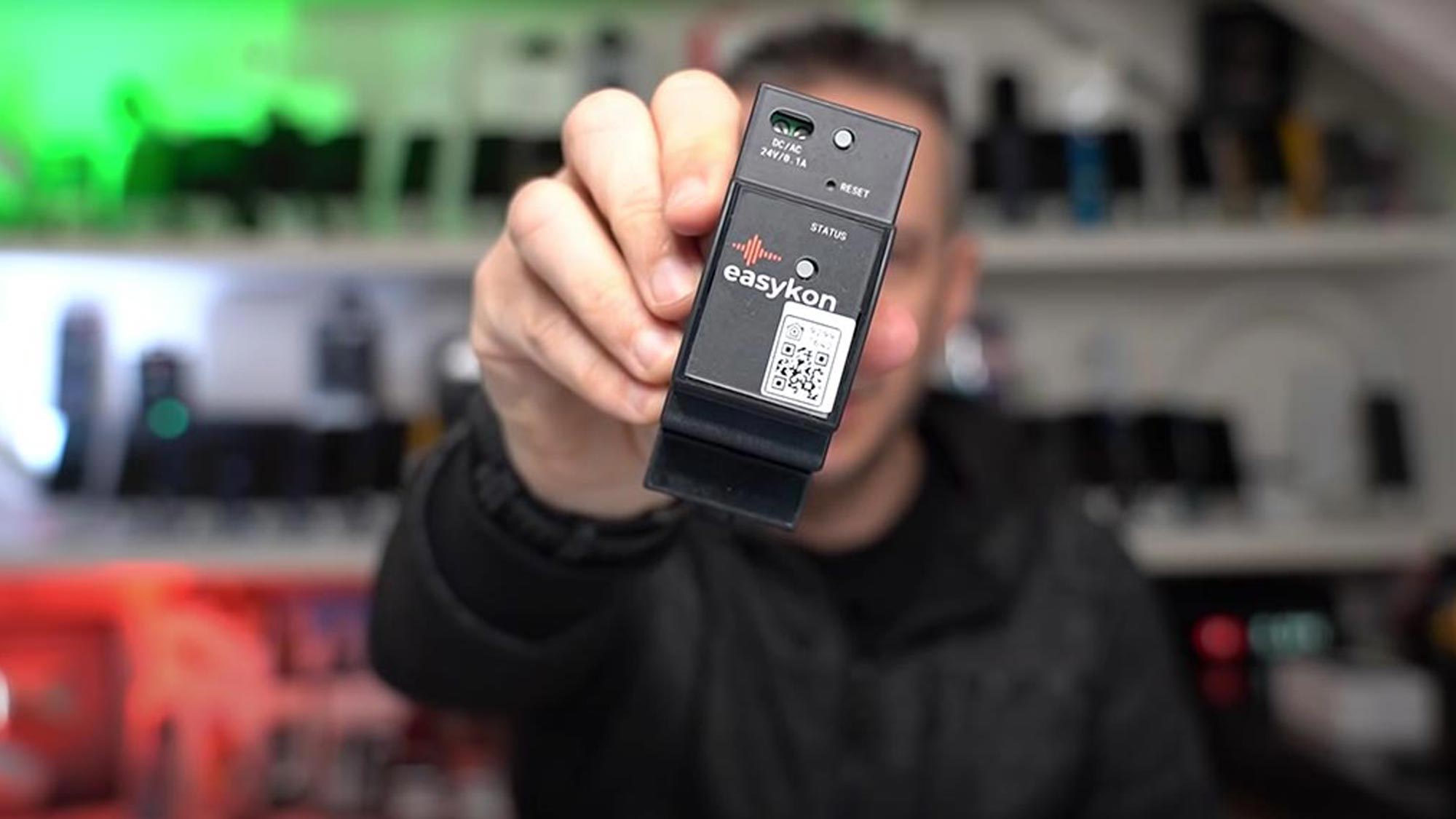 App & voice control
Make BTicino MyHome home automation really smart
Do you know you can turn on the lights just by walking into your room?  So make your BTicino MyHome SCS System really smart and stop wasting time and energy. 
You can easily control your BTicino MyHome SCS system by visualizing the app on your device or using your voice. Easykon for MyHome works with Apple Homekit, Google Assistant, Amazon Alexa, IFTTT and Home Assistant. Easykon for MyHome works even with the systems installed since 1999!
Don't waste your time, make it Easy(kon)!
Give a boost to your home automation! Read some examples.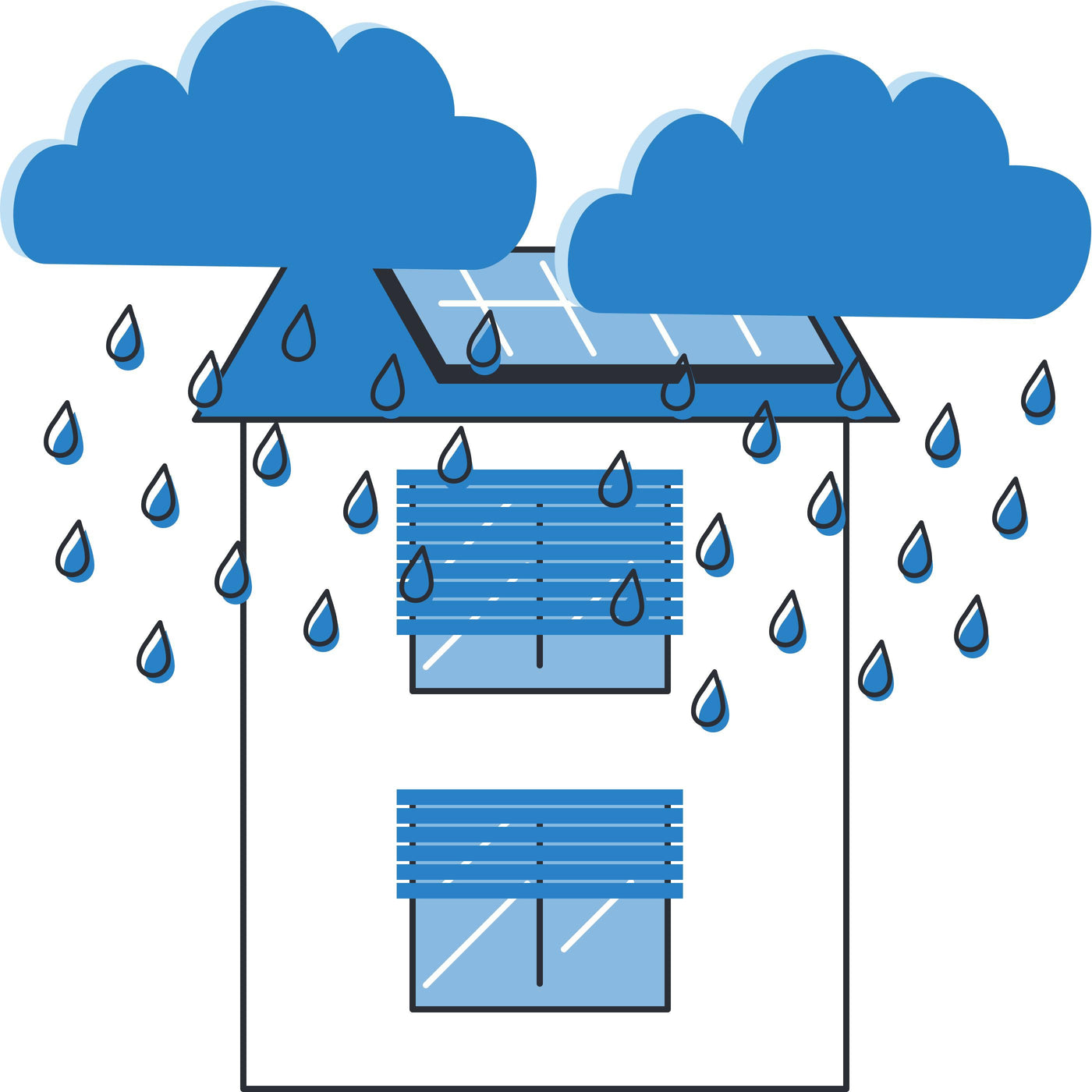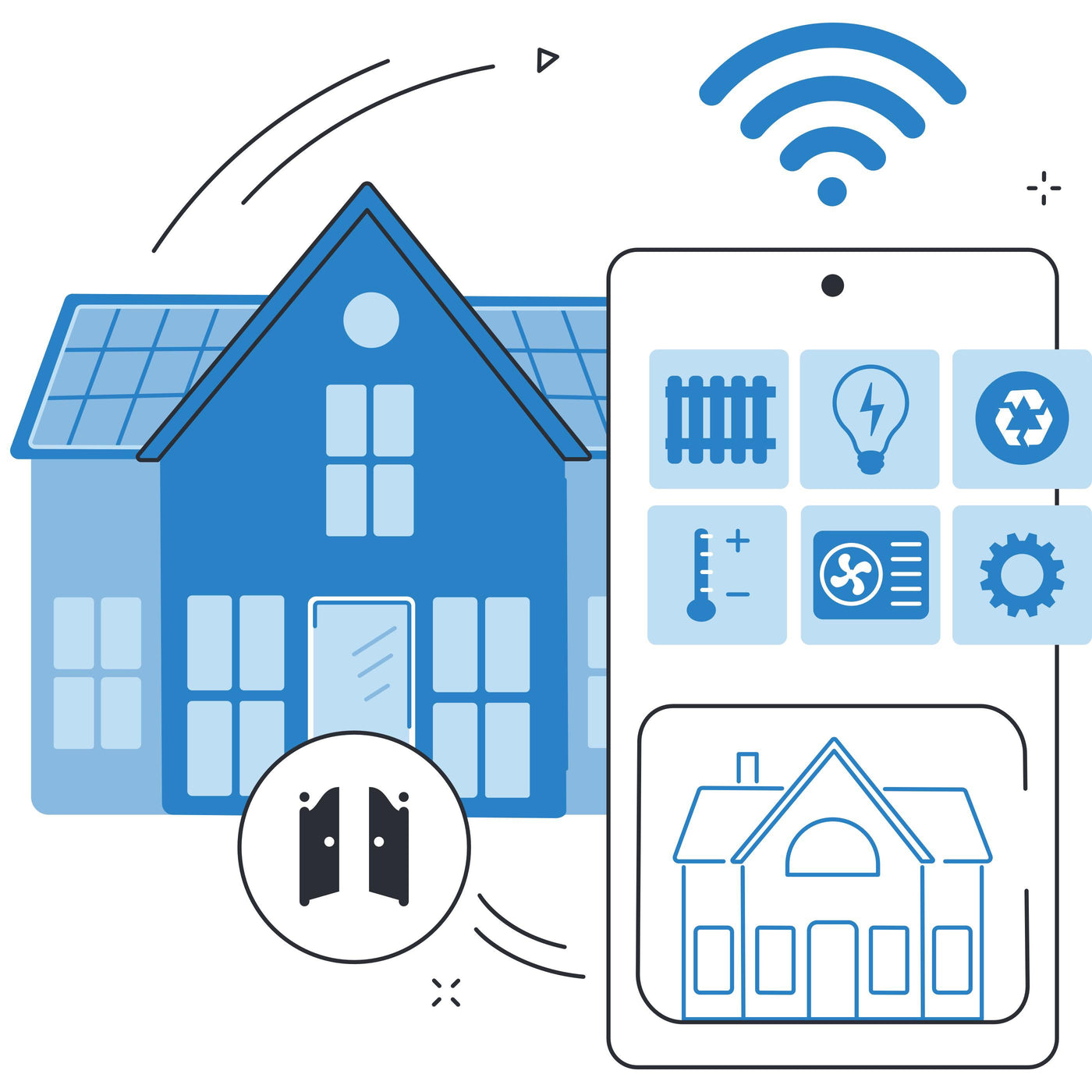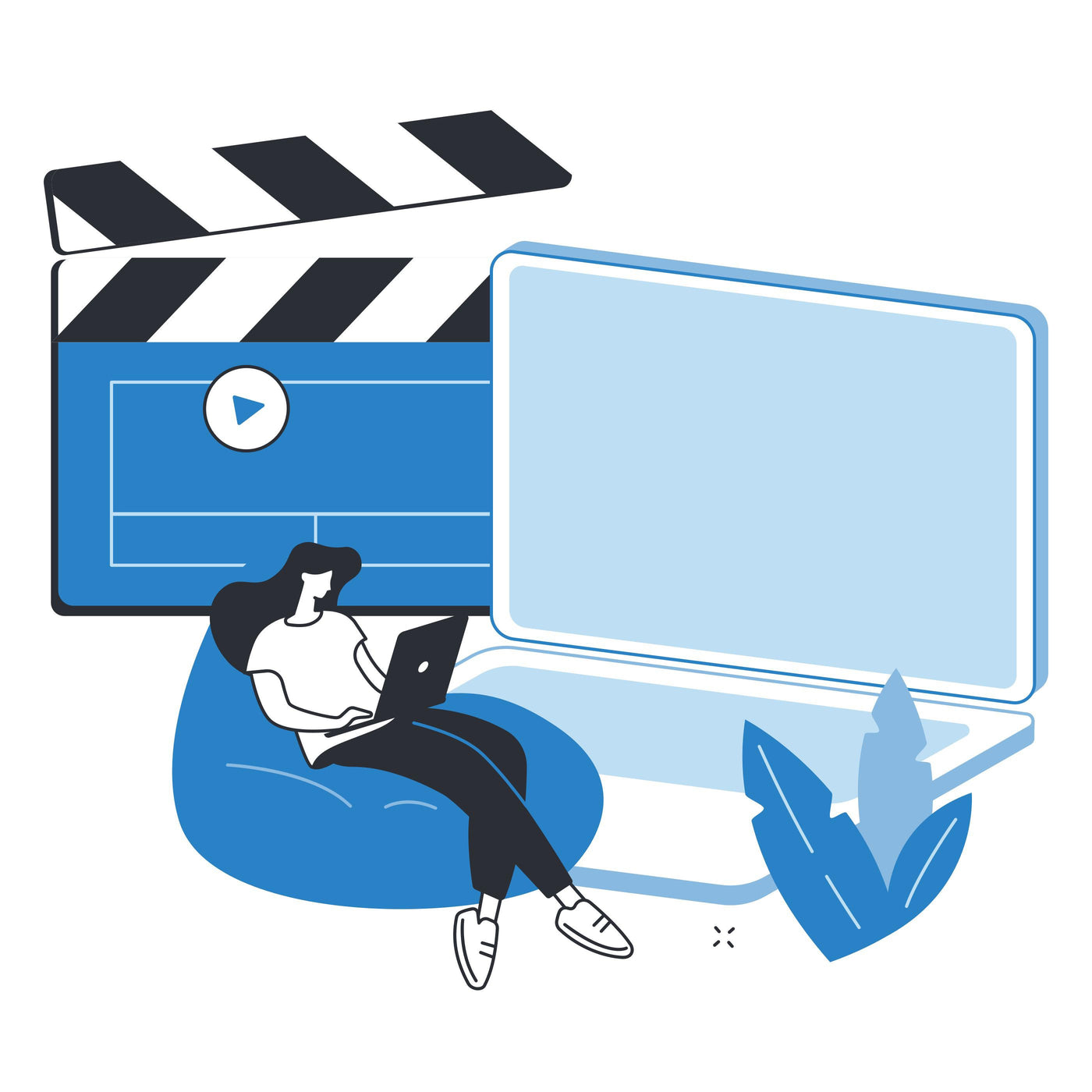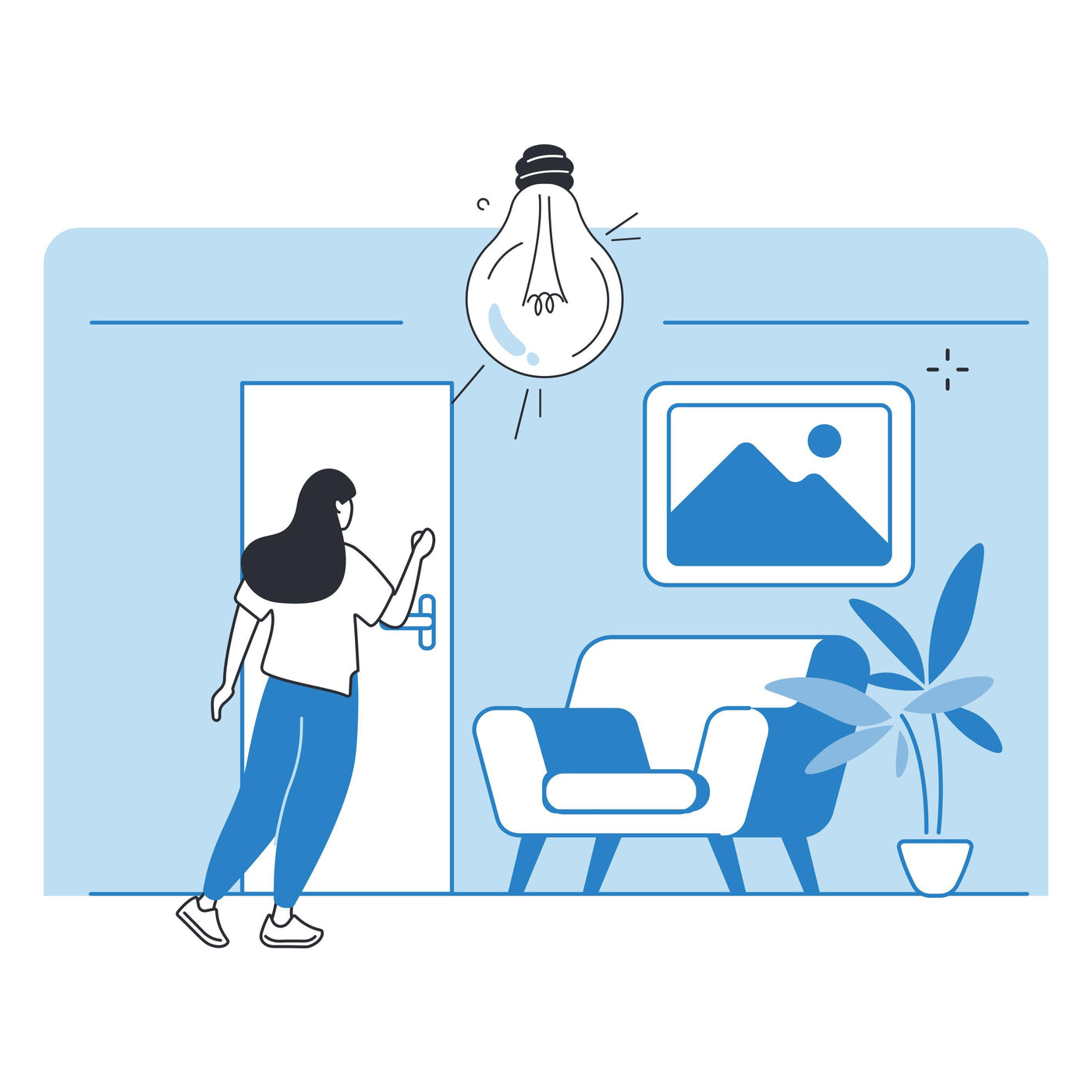 Unexpected rain?
Close your shutters even when you're not home and it starts to rain unexpectedly. Connect your smart shutters to Easykon for MyHome and use the weather entity in Home Assistant to set up an automation that will close the shutters once the weather forecast changes.
"Hey, you left the door open!"
Did you forget to close your house gate on your way out? No problem!
Connecting the gate to Easykon for MyHome, you can receive a notification through your smartphone and close the gate remotely. Be safe!
Movie time
Dim the lights, set the mood and enjoy a movie as if you were at the cinema. Connect the lights to Easykon for MyHome and… when you turn on the Smart TV, it recognizes that it's time to enjoy your popcorn!
"It's busy!"
You're not sure if the bathroom is busy or not?
No worries: you can set colored lights to change color when it's busy.
It's time to avoid being ridiculous!
Powerful automations for your MyHome system
Command your house with app & voice control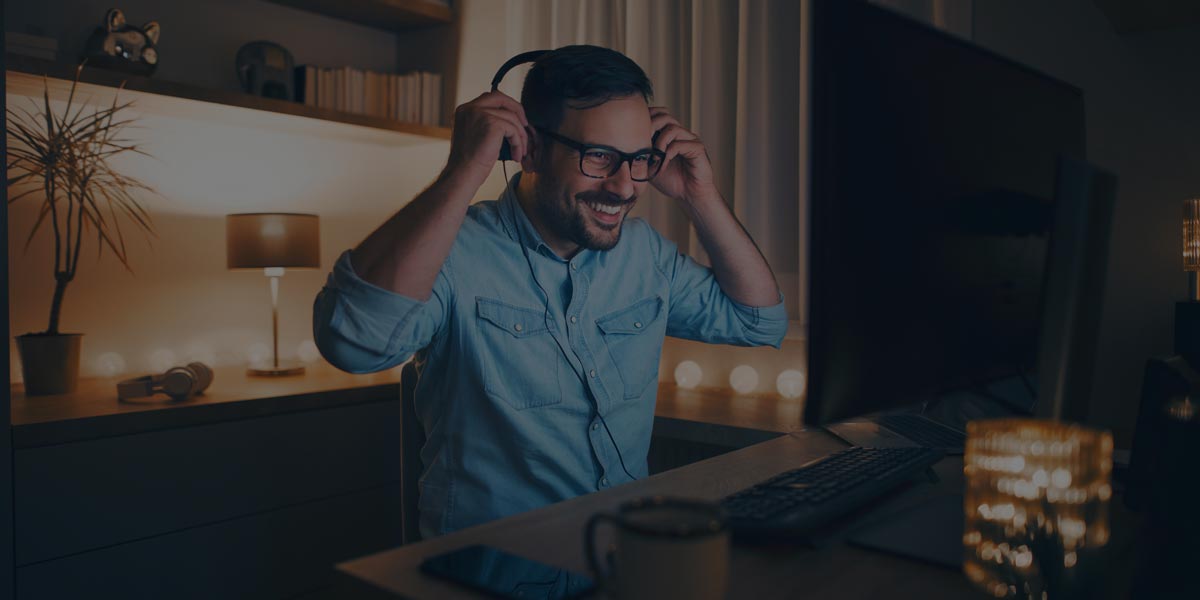 "Hey, turn on the lights"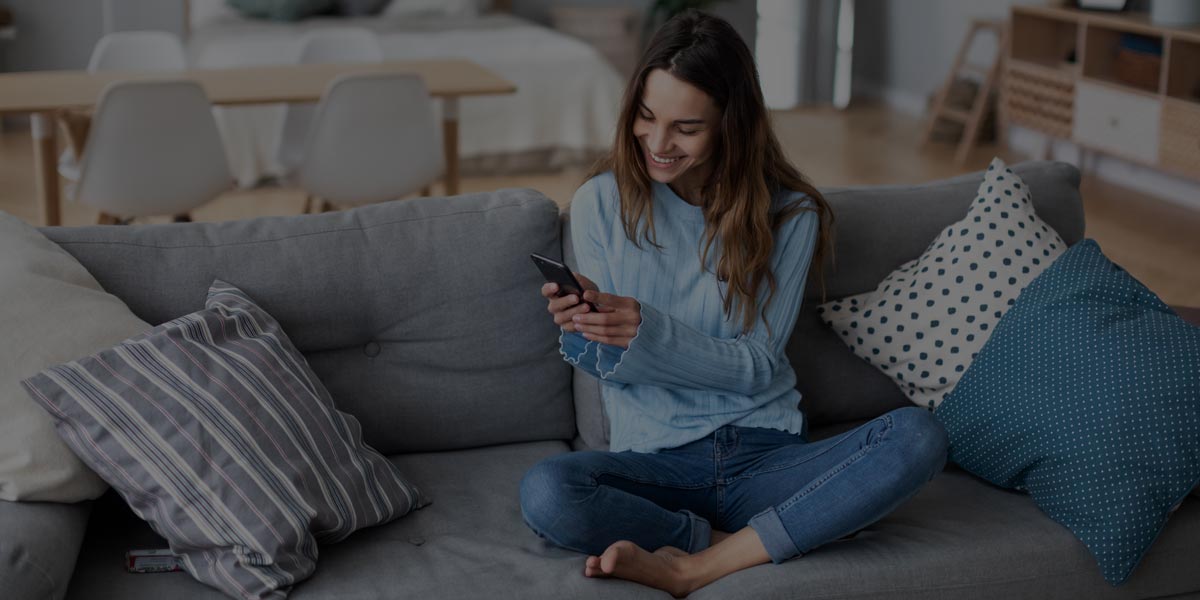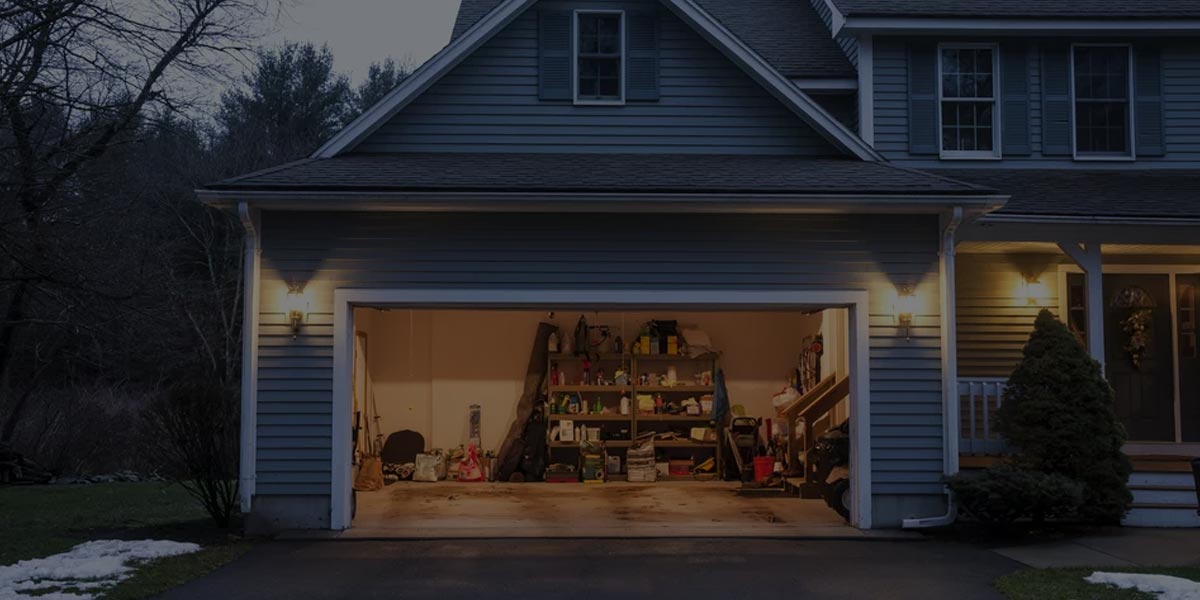 Have I left the garage door open?
Control BTicino MyHome home automation with bare hands
Fast, smart, Easy(kon)
Make home management easier talking to your smart platform or control it in a few taps on your phone's touch screen.
Just a couple of years ago, controlling MyHome devices with voice commands seemed like utopia. Nowadays, thanks to the use of smart platforms with the voice commands of Siri, Alexa and Google Assistant, you can say "raise the curtains" to enjoy the sunset from your window.
You can manage that by your device too, setting all of your home automation on the visualizing app. So the heaters will turn off when there's no one at home.
Swipe left to read more
Useful tools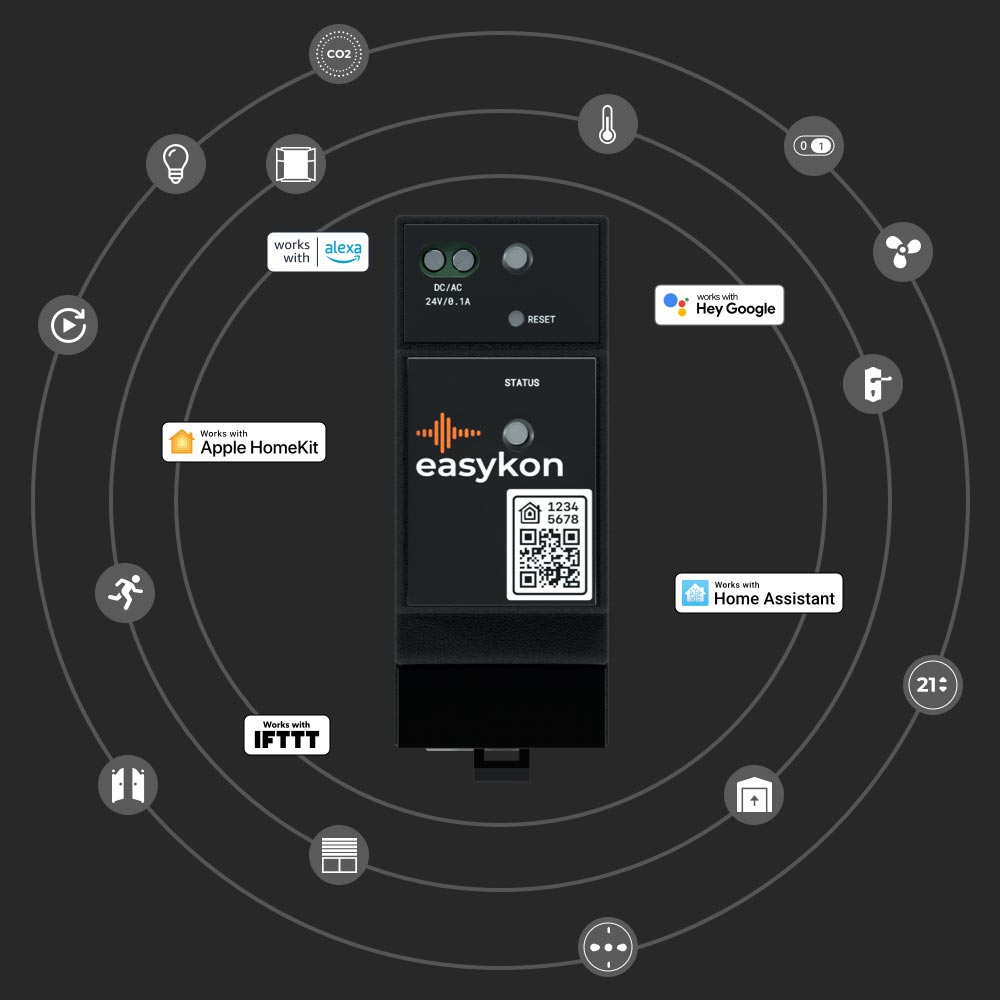 Wide compatibility
Easykon is compatible with all the accessories of your system and connects them to the smart platforms.
Verify the compatibility between your plant devices and the Apple HomeKit, Google Home, Amazon Alexa, IFTTT and Home Assistant platforms.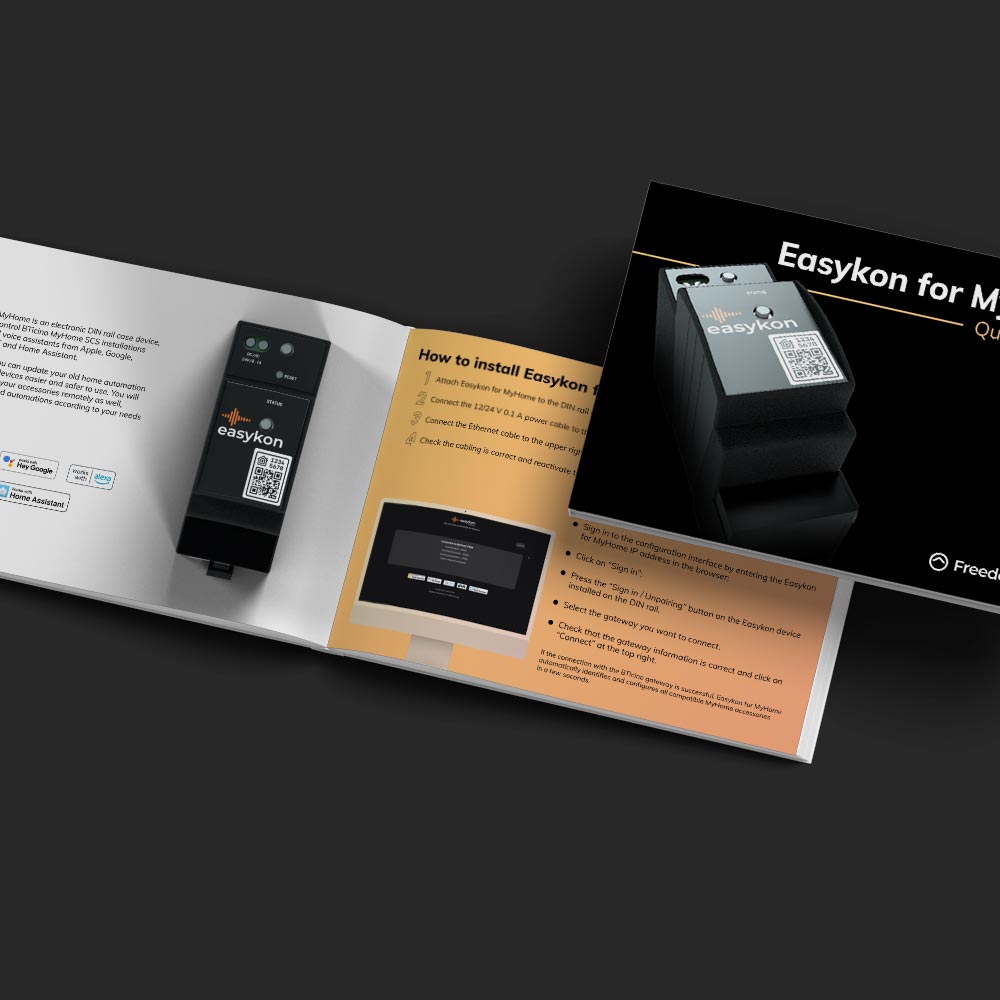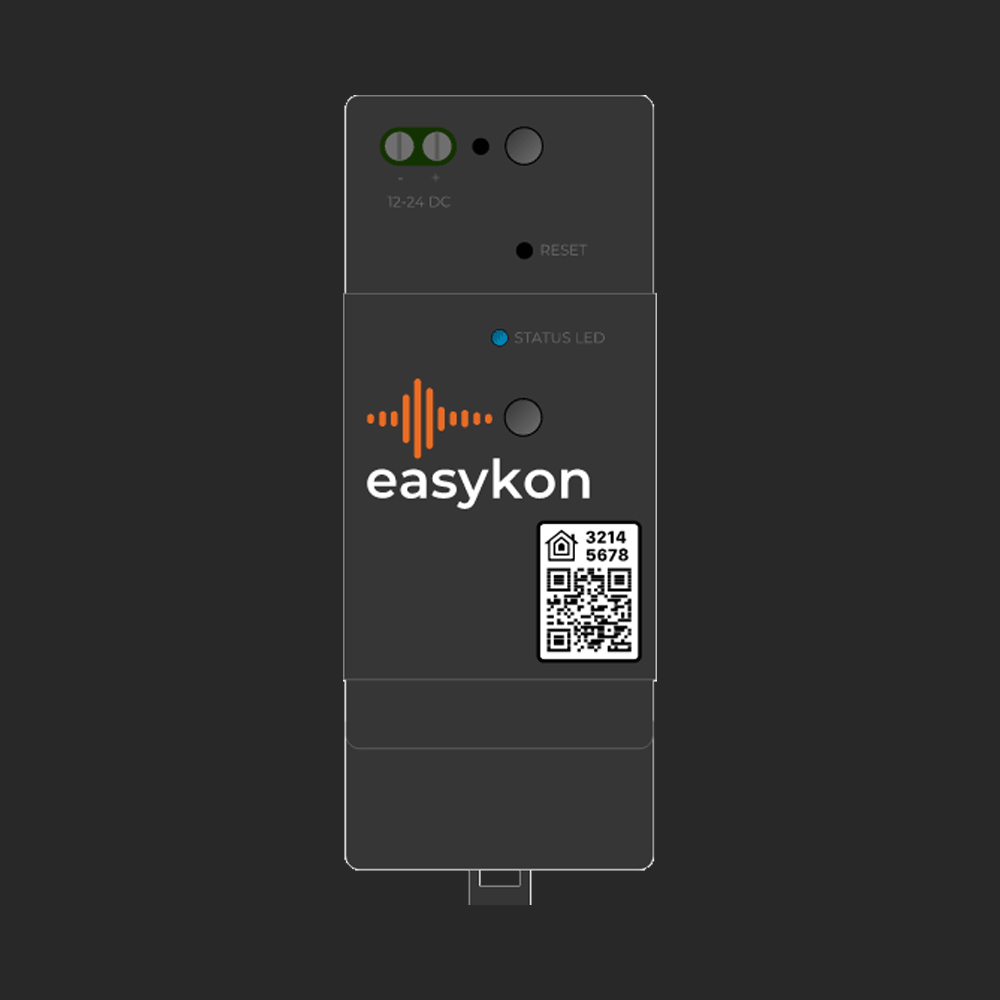 Status light
Fixed blue: the system is up and running
Flashing blue: the system is being reset or unpaired
Fixed magenta: no connection with the MyHome SCS BUS
Flashing magenta: no internet connection
Fixed red: system initializing
Flashing red: Ethernet cable disconnected
A wonderful product. Easy installation, simple interface, excellent integration with Google Assistant and HomeKit. In no time at all, your old BTicino system becomes smart.
Easy and suitable for all
Why choose Easykon for MyHome?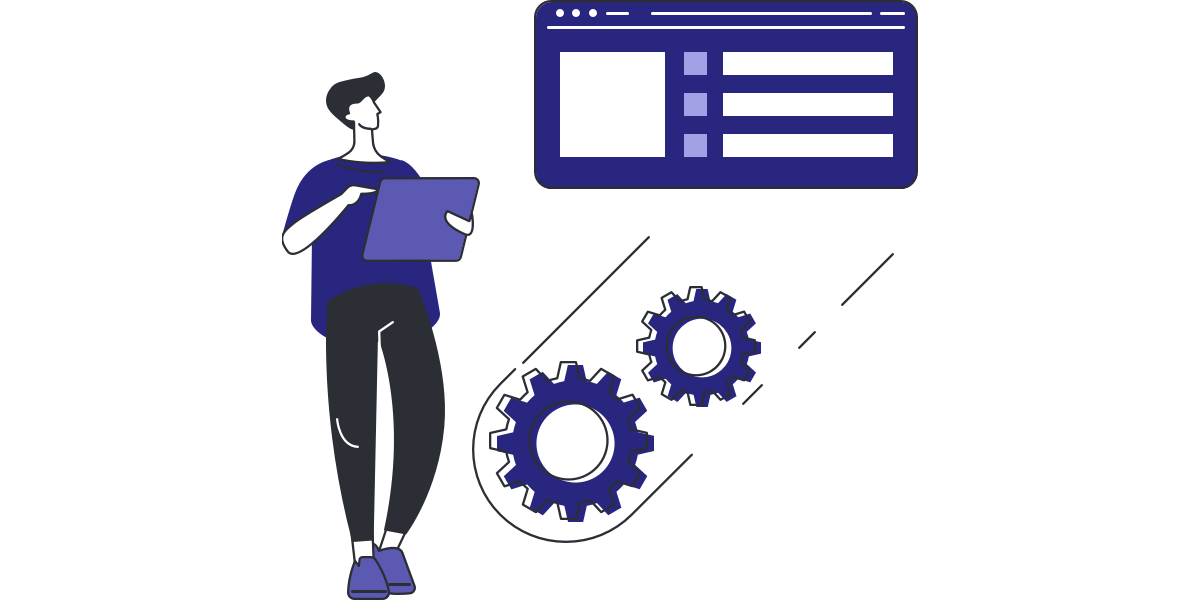 Update your old home automation system
Every BTicino MyHome SCS system can be upgraded to the latest smart home technology.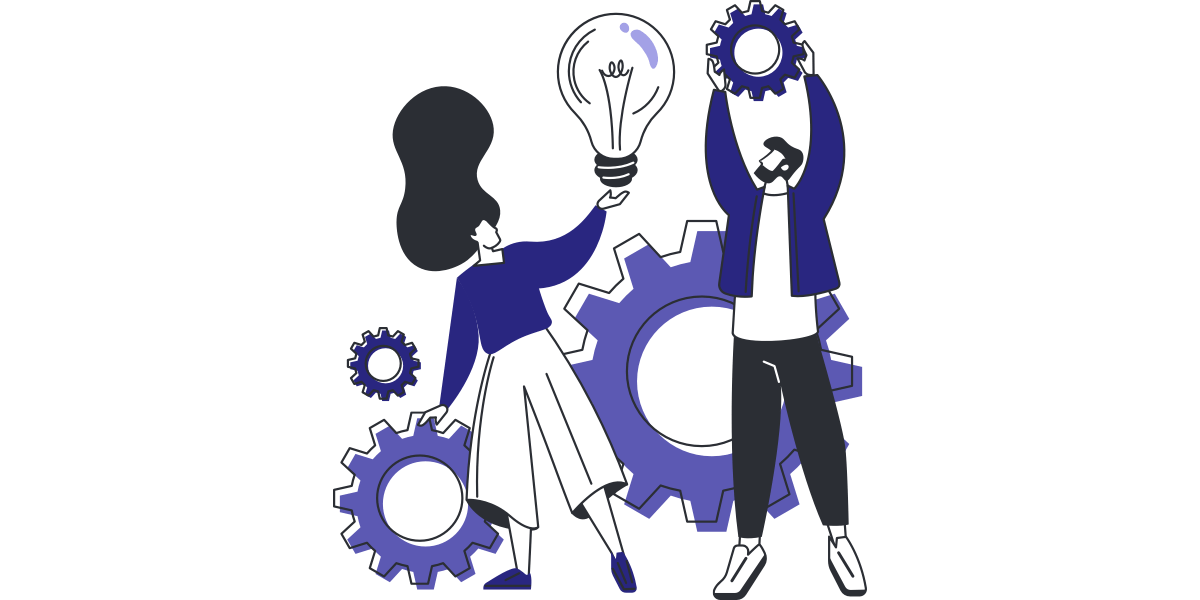 Extend your home automation
Connect different accessories from different IoT brands to add even more automations to the MyHome system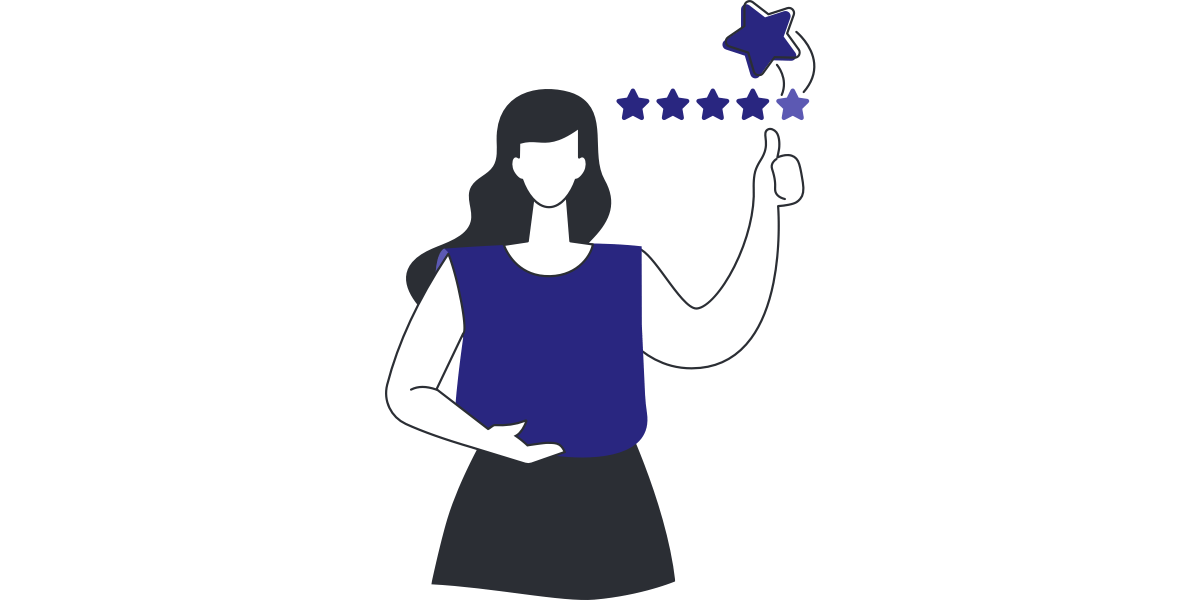 Best price and technology
The most affordable price, the best reviews on the market. Get the best out of your home automation and save money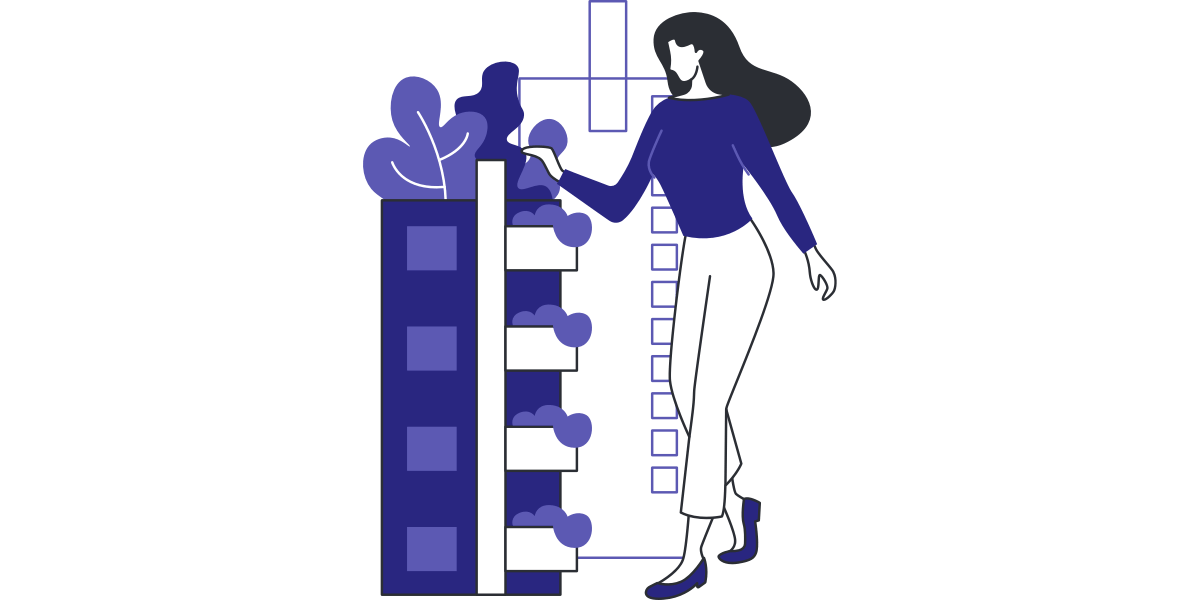 Remote control and safety
No more reminders and worries, control your home remotely in total safety
Are you a smart home professional or a tech savvy?
More technical stuff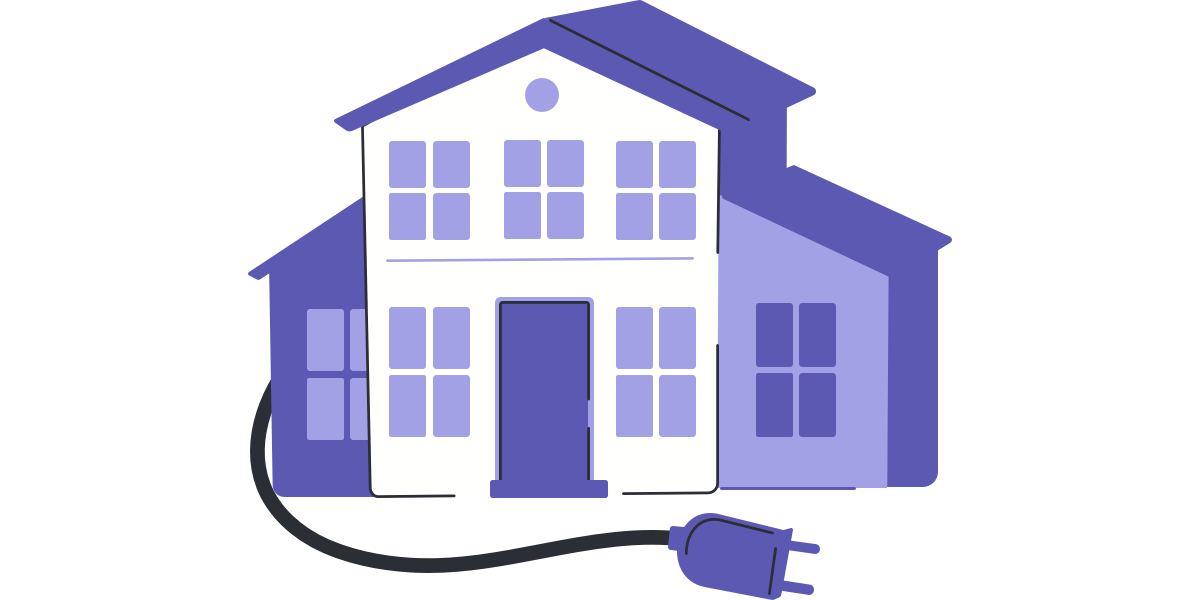 Plug & Play and quick to install
Easykon is ready to use, no additional software expertise is required to install and put it into operation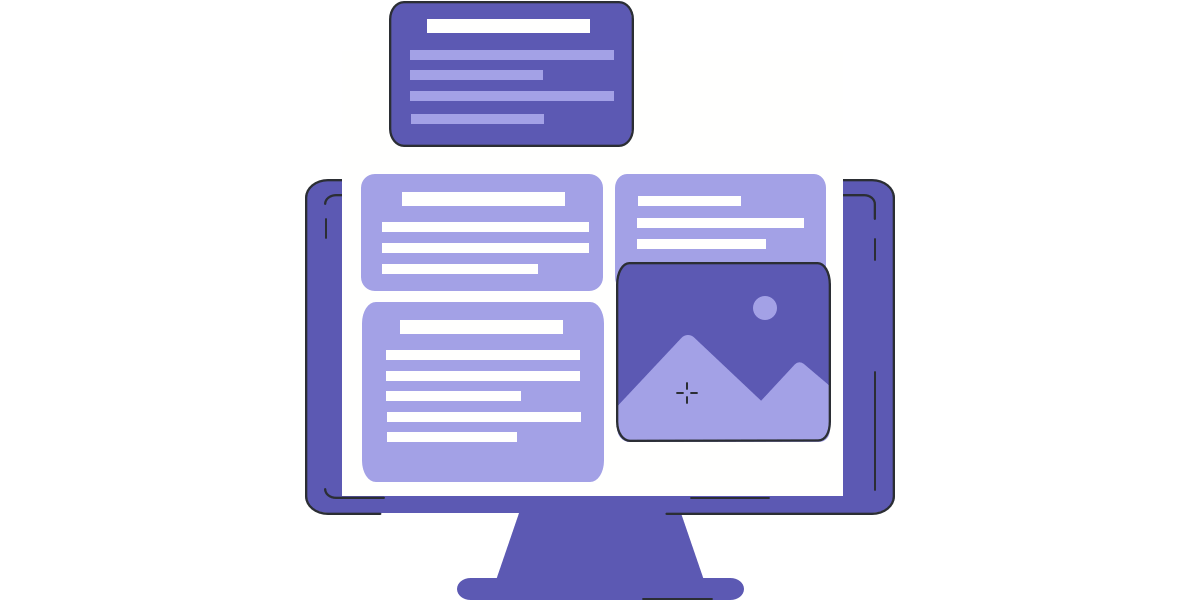 User friendly dashboard
The configuration panel is really intuitive and easy to use: in a few minutes Easykon is able to manage the whole house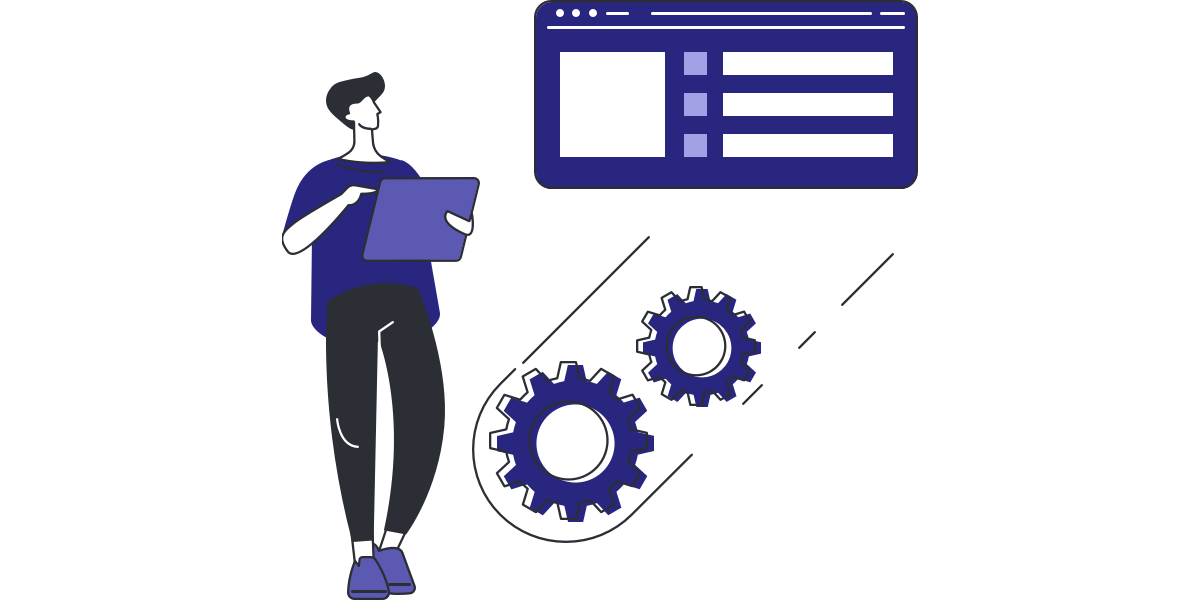 Automatic device detection
Once connected to the gateway, Easykon will map and detect the entire system automatically
Fast to install with olny 3 steps
Easy configuration
- 12/24 V AC/DC 0,1 A
- Power supply not included
- Don't use the BUS as power supply
DIN rail module
Height: 90 mm (3.54 inches)
Width: 36 mm (1.42 inches)
Depth: 62 mm (2.44 inches)​
149 accessories for every Easykon for MyHome
- BTicino gateway suggested: MH201 ➝ Read the related article
- Do not use the BUS cable as power supply. If you have several bus lines connected to each other via F422, connect the gateway on the main line
- You can install more than one Easykon for MyHome on the same system
Try it for free
Free Trial